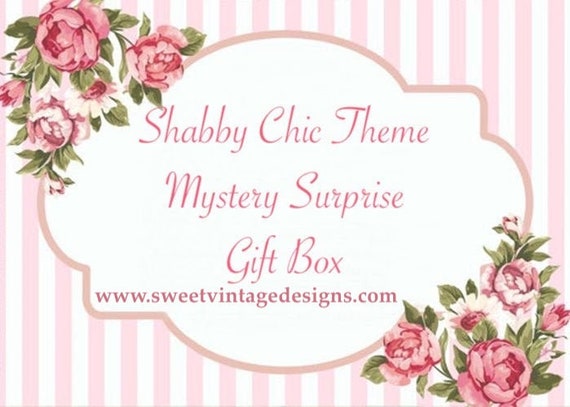 Shabby Chic Themed Mystery Box Surprise Grab Bag-Home Decor, Trinkets, KnickKnack Gift for Her Mother's Day - One of a Kind Handmade Items
By Sweet Vintage Designs
Product Info
Shabby Chic Decor and More!
Click here: www.etsy.com/shop/SweetVintageDesignCo
Just what is a mystery box? Remember as a kid we would go to little Mom and Pop shops and buy "grab bags" and the excitement of opening up one with a bunch of little surprise items!? Well, this is an adult version with a mystery collection of my handmade shabby chic home decor items, trinkets, knickknacks, etc., all shipped to you or as a gift in a box!
THIS BOX WILL HAVE A MIX OF 15 ITEMS. I HAVE SMALLER BOXES HERE:
www.etsy.com/shop/SweetVintageDesignCo?search_query=mystery+box
What a GREAT, UNIQUE, ONE OF A KIND GIFT to send to someone special! or to treat yourself. Perhaps a teacher, mother-in-law, bridesmaids gifts, special Aunt, Mom, sister, daughter, best friend, neighbor, or even a hostess gift!
IMPORTANT INFORMATION:
1. There are 15 "mystery" items in this box. Each one is handcrafted/handmade by myself.
2. The box the shabby chic mystery items will come shipped in a plain but new cardboard box.
3. You can customize the mystery items only by 4 color choices (mostly pinks, whites, ivory/offwhites or a mix)
4. No custom requests allowed (except for the color theme as indicated). Again, this is why it's a "mystery" box. I choose and make the items as a surprise. You simply pick the color theme and size box!You will NOT be disappointed. Please see my reviews! That's my promise!
EXAMPLES of what is included is:
shabby chic style painted mason style jar
shabby chic style painted tin can vase
shabby chic magnets
shabby chic clothespins
shabby chic gift cards/stationery
shabby chic hand made bookmarks
shabby chic gift card tags
shabby chic trinket boxes
shabby chic stationery items