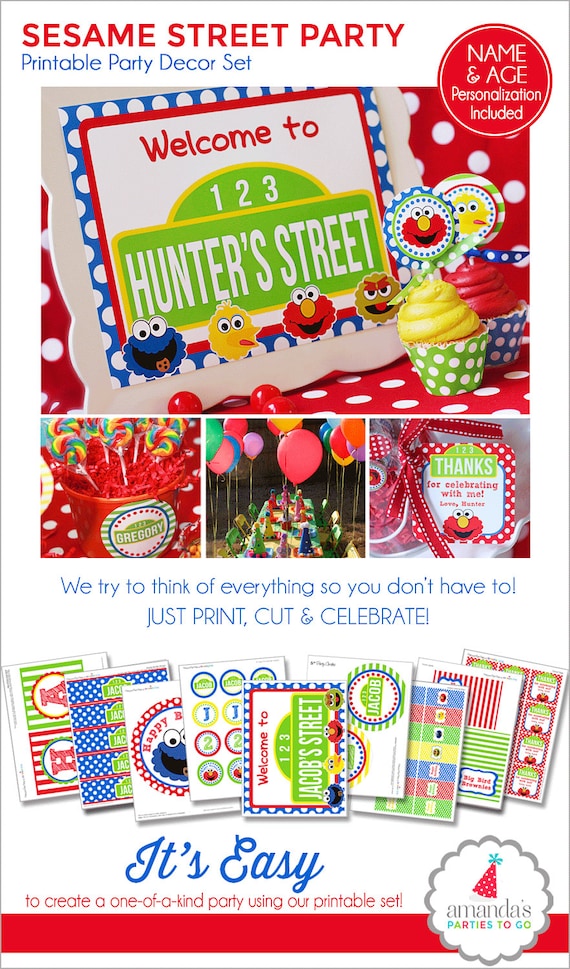 Sesame Street Party | Sesame Street Birthday Printables | Sesame Street Party Decoration | Elmo Party | 1st Birthday Amanda's Parties To Go
By Amanda's Parties To Go
Product Info
Sesame Street Birthday Decorations (Printable files)
ON SALE now only $19.99!
❚❚❚❚❚❚❚❚❚❚❚❚❚❚❚❚❚❚❚❚❚❚❚❚❚❚❚❚❚
WHAT YOU ARE PURCHASING:
❚❚❚❚❚❚❚❚❚❚❚❚❚❚❚❚❚❚❚❚❚❚❚❚❚❚❚❚❚
►Sesame Street or Elmo Birthday Party Decorations (Printable files) -- personalized with a NAME and AGE for your little one who LOVES Sesame Street! ON SALE now only $19.99!
►Please include child's NAME & AGE under notes to seller at check out.
►PDF files will be sent to your ETSY Email. No items are shipped in the mail.
❚❚❚❚❚❚❚❚❚❚❚❚❚❚❚❚❚❚❚❚❚❚❚❚❚❚❚❚❚
Choose turn around time at check out!
❚❚❚❚❚❚❚❚❚❚❚❚❚❚❚❚❚❚❚❚❚❚❚❚❚❚❚❚❚
►Available in an Unpersonalized Instant Download for $13.99 here:
http://etsy.me/1CmfuTy
►Sesame Street or Elmo InvitationSet Sold HERE: http://etsy.me/1zmQhax
►Buy A la Carte Party Pieces HERE: http://etsy.me/1xpz3IO
(Package prices reflect an 85% discount)
❚❚❚❚❚❚❚❚❚❚❚❚❚❚❚❚❚❚❚❚❚❚❚❚❚❚❚❚❚
INCLUDED in the Sesame Street Birthday Party Decorations (Printable) Set:
(No changes can be made)
❚❚❚❚❚❚❚❚❚❚❚❚❚❚❚❚❚❚❚❚❚❚❚❚❚❚❚❚❚
● 2" LOGOS: 8 designs: INITIAL-- AGE --"Happy Birthday" --NAME --Elmo --Cookie Monster --Big Bird --Oscar
● 2.5" BACKGROUND CIRCLES: go behind 2" logos for cupcake toppers
● 4" CENTERPIECE CIRCLES: 8 designs: INITIAL-- AGE --"Happy Birthday" --NAME --Elmo --Cookie Monster --Big Bird --Oscar
● 8" CENTERPIECE CIRCLE: "Happy Birthday"
● CUPCAKE WRAPS: 4 designs in dots
● COLORING SHEET: "Happy Birthday NAME"
● PARTY HATS: 4 designs
● 12 FOOD LABELS: Tent Cards with the following wording: (Sesame Street Sandwiches, Big Bird Brownies, Dorothy's Doughnuts, Cookie Monster Cookies, Elmo's Chips, Grover's Goodies, Cupcakes, Juice, Ernie's Pops, Fozzie Bear Fruit, Bert's Veggies, and Oscar's Pizza)
►NOTE: Up to 12 Custom Food Labels (your own food names) sold for $8.00 here: http://etsy.me/1DHfC1y
● BLANK fold over label cards for placecards or write-in buffet items
● DRINK WRAPS
● STRAW FLAGS
● NAPKIN OR BUBBLE WRAPS
● FULL SIZE CANDY BAR WRAPS
● MINIATURE CANDY BAR WRAPS
● HERSHEY KISS CIRCLES: (to use with a 3/4" circle craft punch)
● TREAT BAG TOPPERS: fit 4"x6" jewelry ziplocs: "Thanks for coming to my party!"
● DOOR SIGN: "Welcome to (NAME)'s Street"
● PARTY SIGN: "Me Love Cookies!"
● PARTY SIGN: "G is for Gifts and Grover, too! Thank you!"
● BANNER: "Happy Birthday" pennant pieces
● BANNER: Plain stripe pennant pieces
● BANNER: "Happy Birthday NAME" 5.25" square pieces
● COORDINATING PAPERS: Printable papers in 4 designs
● FAVOR TAGS: "Elmo loves his goldfish, Crayons, too. Now so can you! Love, (NAME)
● FAVOR TAGS: "Thank you for celebrating my birthday! Love, (NAME)"
❚❚❚❚❚❚❚❚❚❚❚❚❚❚❚❚❚❚❚❚❚❚❚❚❚❚❚❚❚
IMPORTANT TO KNOW:
❚❚❚❚❚❚❚❚❚❚❚❚❚❚❚❚❚❚❚❚❚❚❚❚❚❚❚❚❚
►Your purchase indicates you have read and agreed with this shop listing and shop policies HERE: http://etsy.me/1BS5f6B
►This printable party set will be sent exactly as described above with NO CHANGES other than the NAME and AGE customizations described.
►All files are in ENGLISH and cannot be typeset in another language. NO COLOR CHANGES CAN BE MADE. You may print as many designs as you need for your own personal use.
►You will need ADOBE reader to open a pdf -- FREE DOWNLOAD HERE: http://get.adobe.com/reader/
►Files are sent ready to print and are NOT EDITABLE.
❚❚❚❚❚❚❚❚❚❚❚❚❚❚❚❚❚❚❚❚❚❚❚❚❚❚❚❚❚
HOW TO CHECK OUT:
❚❚❚❚❚❚❚❚❚❚❚❚❚❚❚❚❚❚❚❚❚❚❚❚❚❚❚❚❚
❶ Place your order and submit payment.
❷ Include personalized information under NOTES TO SELLER at checkout: NAME & AGE of your child.
❸ You will receive your files based on your choice of turn around time at check out.
❹ Print files at home onto photo paper or brochure paper or you may print at a printer such as Office Max or Office Depot.
❚❚❚❚❚❚❚❚❚❚❚❚❚❚❚❚❚❚❚❚❚❚❚❚❚❚❚❚❚
MATERIALS YOU WILL NEED:
❚❚❚❚❚❚❚❚❚❚❚❚❚❚❚❚❚❚❚❚❚❚❚❚❚❚❚❚❚
Printer
Photo Paper or brochure paper
Scissors
2" & 2.5" circle craft punches (optional - make cutting cupcake toppers easy)
Hot glue
Tape
Ribbon or twine for signs, cupcake toppers, banner
Wood dowels/skewers for centerpiece signs
Lollipop sticks or white coffee stirrer straws for cupcake toppers
❚❚❚❚❚❚❚❚❚❚❚❚❚❚❚❚❚❚❚❚❚❚❚❚❚❚❚❚❚
THE FINE PRINT
❚❚❚❚❚❚❚❚❚❚❚❚❚❚❚❚❚❚❚❚❚❚❚❚❚❚❚❚❚
These Sesame Street Birthday Party Decoration files are for personal, non-commercial use only. You may not forward, share, sell or distribute the file. These items are not licensed products, and all likenesses of characters used in the designs are free and not being sold. Character copyright is held by original owner. Designs are intended for ONE TIME use only. Your purchase is for the labor and time involved in creating your child's customizations.
❚❚❚❚❚❚❚❚❚❚❚❚❚❚❚❚❚❚❚❚❚❚❚❚❚❚❚❚❚
FIND US ON THE WEB!
❚❚❚❚❚❚❚❚❚❚❚❚❚❚❚❚❚❚❚❚❚❚❚❚❚❚❚❚❚
B L O G ::: www.amandaparkerandfamily.blogspot.com
F A C E BO O K ::: http://facebook.com/amandaspartiestogo
P I N T E R E S T ::: https://www.pinterest.com/amandasparties
E M A I L ::: amandaspartiestogo[at]gmail.com
❚❚❚❚❚❚❚❚❚❚❚❚❚❚❚❚❚❚❚❚❚❚❚❚❚❚❚❚❚
SHOP HOURS FOR SENDING ORDERS & ANSWERING EMAILS:
MON-FRI 8am - 5pm CST
Weekends Occasionally
Order Anytime
❚❚❚❚❚❚❚❚❚❚❚❚❚❚❚❚❚❚❚❚❚❚❚❚❚❚❚❚❚