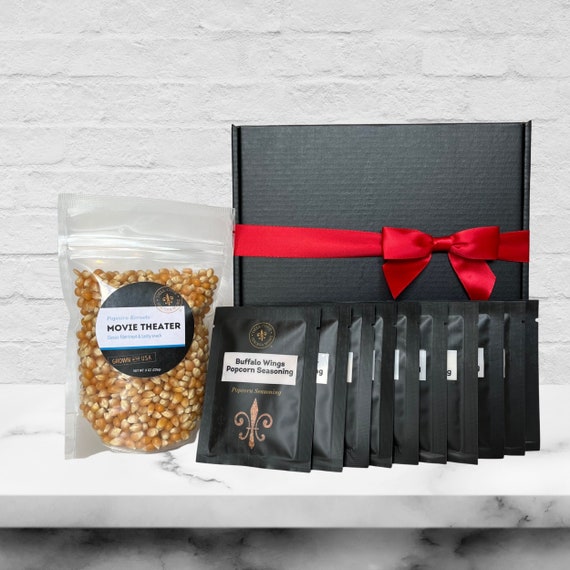 Seasoning and Popcorn Starter Pack - Single Serving Seasonings, Movie Theater Popcorn, Popcorn Sampler, Unique Gift Box
By Dell Cove Spice Co
Product Info
Dell Cove® Seasonings and Popcorn Sampler Pack - taste all ten of our delicious popcorn seasonings without committing to a full size pouch! A perfect starter pack to figure out what flavor you like best.
While we say all are our favorite, these single serving pouches can help you decide for yourself. Each pouch has enough seasoning to flavor one bowl of popcorn. Our hand-blended, small batch spices taste best over freshly popped popcorn so, we have included a 1/2 pound bag of our best selling Movie Theater popcorn kernels to complete this gift set.
Each gift set will come with 10 single serving pouches, one pack each of: Buffalo Wings, Buttery Garlic, Chocolate Caramel, Dill Pickle, Kettle Corn, Salt and Vinegar, Salted Caramel, Spicy Cajun, White Cheddar and White Cheddar Jalapeno and a 1/2 pound bag of Movie Theater popcorn kernels. Perfectly packaged in a black gift box with our signature red satin ribbon.
Dell Cove® blends are all gluten-free, non-GMO and vegetarian - with no artificial flavors or preservatives. Our blends are produced in small batches, too!
SHELF LIFE: 3 years from purchase.
We have other spice gift sets in our shop, so please look around. Any questions, just hit the "Ask a Question" button next to the price and we will get back to you within 24 hours.
Thank you for shopping at Dell Cove Spices & More®!
© 2023 Dell Cove Spices & More Co.®