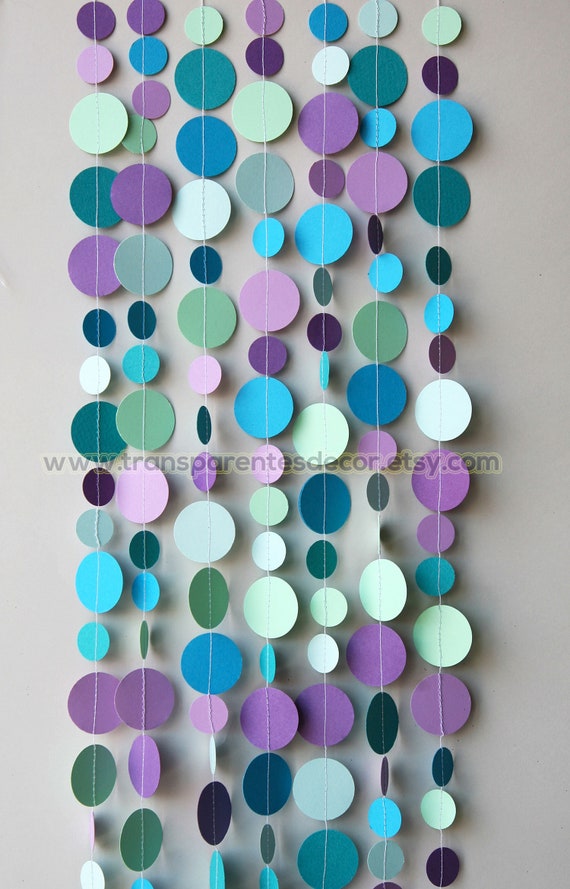 Under the Sea backdrop, Mermaid party backdrop, Mermaid Bubbles backdrop, Beach Wedding, Mermaid Birthday, Mermaid Baby Shower decorations
By TransparentesDecor
Product Info
Create your wonderful Under the Sea Mermaid party backdrop with one of these packs. Chose the pack that fit better with the measures you want to cover.
With each backdrop pack goes a ribbon to hang the strands. You can slide the strands to separate or put them closer to each other to get the wide you need.
The advantage, if your treat it with care, is that you can use or reuse this garland in many ways, not only as backdrop for years to come. You can make a table runner with 3 or 4 lengths, can use it as tree decoration, staircase garland, aisle decor...
I T E M • D E S C R I P T I O N
Garland Curtain Backdrop circles.
Options.
Backdrop height: to chose from 3 ft, 4 ft, 5 ft, 6 ft, 7 ft, 8 ft and 10 ft. Contact me if you want a custom height.
Number of strands: to chose from packs of, 10 strands, 15 strands, 20 strands and 25 strands. If you want more strands contact me, please.
Backdrop wide: it depends of the separation between strands you want. In example, if you hang one strand each 6 inches, with a pack of 10 strands you will cover almost 5 ft. wide, with 20 strands almost 10 ft. wide...
All packs come with a ribbon included to string the strands. Each strand is made with 2"+ 3" circles.
- Custom size, contact me and I will do it with the measures you need.
As any other card stock item, handle softly.
The strands comes packed individually to hang from the ribbon provided in the pack.
100% Handmade by me.
If you want loose strands, go to this listing, please:
https://www.etsy.com/listing/193021480/bubbles-party-decoration-mermaid-party?ref=shop_home_feat_3
S H A P E • S I Z E
- 2" + 3" circles.
C O L O R •
Hues of blue, green and purple.
C U S T O M • O R D E R S
Have you seen a garland in my shop that you like more than this one? Paste the link to that garland in the personalize text box and I will do it for you instead the one of this listing.
Want other quantities or lengths? Please contact me.
Variations in length, shapes or new designs. Send me a message and the desired color palette please.
D I S C L A I M E R •
By purchasing this listing, you are agreeing to TransparentesDecor's terms & conditions. www.etsy.com/shop/transparentesdecor/policy
C A U T I O N S •
This is not a toy. As any other not proper object has to be out of the reach of children or fire.
NOTICE.
This item as well as images and text is Copyrighted © 2018 B.A. TransparentesDecor. All rights reserved. They are protected under US law and their international treaties.
If you see these images to sell this item or this text complete or partially, on other shop or marketplace, they has been stolen.
We are not responsible for what others sell you using our images. Beware of copyright offenders imitations. Thanks for your support!
Under the Sea backdrop, Mermaid party backdrop, Mermaid Bubbles backdrop, Beach Wedding, Mermaid Birthday, Mermaid Baby Shower decorations