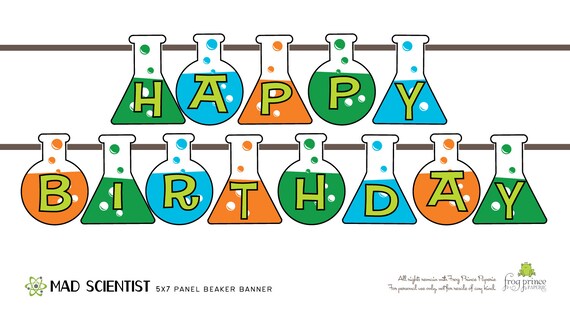 Product Info
Science is the mad name of the game, beakers and electrons are our birthday party game! Get scientific in a crazy way for your child's birthday with our own scientist and mad unique party printables!
And getting ready for the party is half the fun! With this scientist beaker printable party banner, you can print everything from home or bring it to an office supply store to have them print everything on cardstock--as many as you need, no limits!
_________
FREEBIE!
With this "Happy Birthday" banner comes a file with all the letters of the alphabet. Spell whatever name you want with them! If you'd like the banner in the same beaker sequence as "Happy Birthday", one can be made for you for a fee.
_________
You'll need a sharp pair of scissors or paper cutter and 7/8-inch ribbon. These are readily available at any craft shop, or anywhere scrap booking supplies are sold.
***These products are for personal use only. You may not use them or any part of the design for any type of sale.***