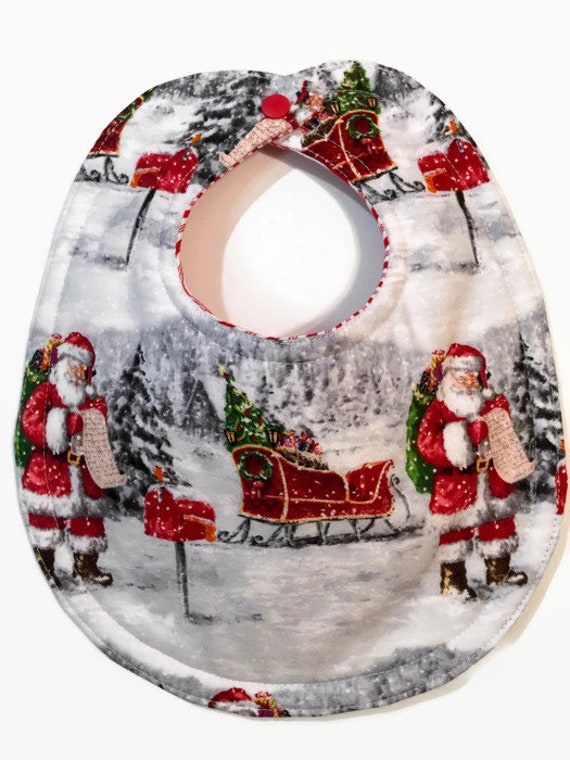 Retro Santa Bib - Christmas Bibs - Vintage Christmas - Santa Claus Bib
By Beastie's Babies
Product Info
This beautiful Santa Claus bib has that old fashioned christmas look. It's a perfect addition to your baby's Christmas wardrobe and has a Vintage print of Christmas long ago.
This beautiful Santa Claus bib fits most babies from 1-18 months of age. It may fit some children longer. (All children are different shapes and sizes)
This bib is made with 100% cotton fabric. One side has a beautiful Santa print with reds, white and grays annd the other side has a peppermint stick print. It's completely reversible. It's plenty thick and absorbent too, with a nice thick and absobent cotton center. There is a set of premium quality Kam snaps at the neck to finish off the look.
There is also a larger size of this bib available in my shop that fits babies 4-24 months. https://www.etsy.com/listing/254178935/
*All bibs vary slightly in placement of fabric. There will always be Santa and mailbox in the middle of the bib, but the placement of the top at the neck opening may be just a bit different because of the way patterns differ when the fabric is cut.
***This is a ready to ship item.
*All fabric and cotton batting were pre washed in a free and clear detergent to reduce shrinking prior to being sewn.
*This bib may be machine washed in cool water. Dry on low setting.
WAHM
*This fabric and bib was made in the USA.