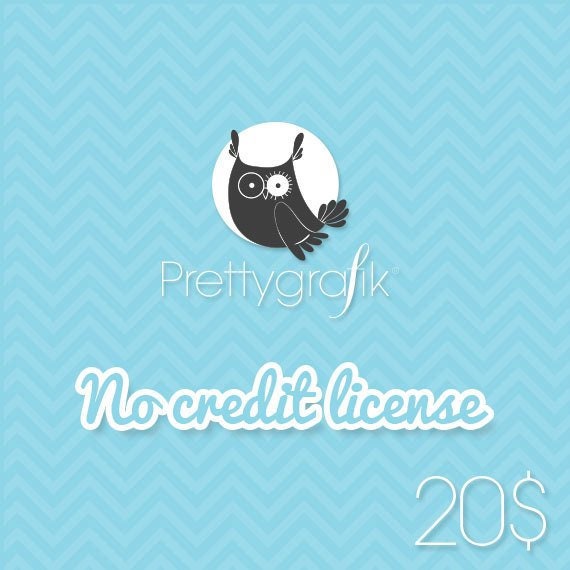 Product Info
BLACK FRIDAY SALE EVENT!
Check out our Bundle section and SAVE BIG!
BIG JULY SALE! THE BEST TIME TO SHOP IS NOW!
BUY 15 GET $5OFF COUPON CODE: JULY5
+ 3 LIFETIME ACCESS AVAILABLE IN THE SHOP
…………………………………….
CONTINUE SHOPPING HERE ★ http://www.etsy.com/shop/Prettygrafikdesign ★
…………………………………….
*** PLEASE INDICATE FOR WHICH PRODUCT YOU WANT THE NO CREDIT LICENSE BY WRITING THE CODE AT THE END OF THE PRODUCT IN THE PURCHASE NOTES***
This license is for the small business / home base crafter to use Prettygrafik graphics with NO CREDIT given back to Prettygrafik. This is a license for small commercial use and does not give the right to high volume commercial production, please see store policies.
This license is good for 1 (one) single clip art pack or 1 single paper pack.
A new license needs to be purchased for each set you wish to use with no credit.
For example: If you wish to use 1 (one) set with no credit then 1 (one) license needs to be purchased. If you wish to use 2 (two) sets with no credit then 2 (two) licenses need to be required. If you wish to use 3 (three) sets with no credit then 3 (three) licenses need to be purchased and so on.
NO CLIPART IS INCLUDED WITH THIS LICENSE, clipart must be purchased separately from us.
License is not transferrable and not refundable.
This is not an extended quantity license please adhere to the standard policies in prettygrafik policy section for allowed uses. This license allows for up to a maximum of 1000 units. If you do not purchase this license you must credit prettygrafik in your products and designs. This license is for the use of our products without credit. For an extended quantity license larger than 1000 units please contact us at info [!at] prettygrafik.com
IMPORTANT: When making the purchase for this license please list which set of clip art this license will be used for.
You will not receive a document for your license, the receipt is your proof of purchase.