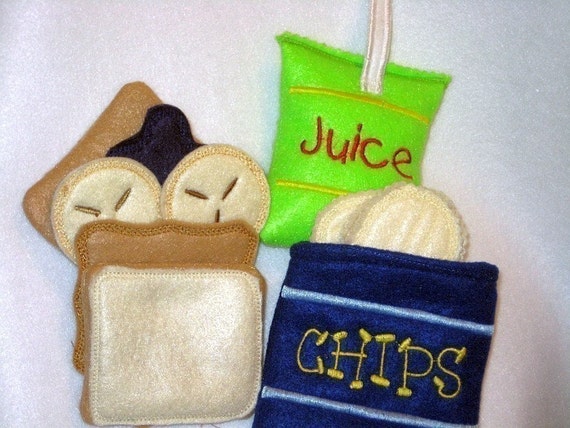 Felt play food - pretend food- play kitchen food - Peanut butter and jelly with banana sandwich plus chips and a juice box #PF2562
By Its The Small Things
Product Info
Get 20% off of your first purchase by signing up at bit.ly/etsysignup
This set is realistic size food, bread slices are 4"x 4" Great for play kitchens. Buy the complete set or purchase individual pieces in the pulldown section above.
The set includes
2 slices of bread
1 grape jelly but we can do other flavors
1 peanut butter
2 bananna slices
4 chips and bag
1 juice box with straw
The items are machine embroidered so even very small children can play with them since they are very sturdy there are no small parts and no glue.
All of our felt foods are made with Eco-Felt and polyfill. Eco-Felt is made from 100% post-consumer recycled plastic, making it an environmentally friendly choice. It is also more durable that typical craft or fabric store acrylic felt, while being less expensive than wool felt.
****We have a lot of designs that haven't been listed in the store yet. check out our "My store" boards on Pinterest . If you find something you like email me, I would love to make it for you.