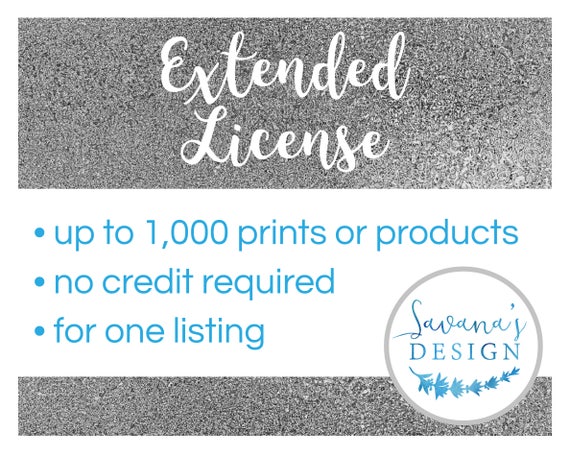 Commercial Use License, Up to 1,000 Prints, No Credit Required, SavanasDesign, Svg Files, SVG, Clipart, Scrapbooking Paper, Fonts, Svg File
By SavanasDesign
Product Info
Commercial Use License, Up to 1,000 Prints, No Credit Required, SavanasDesign, SVG Cut Files, SVG, Clipart, Scrapbooking Paper, Fonts
This No Credit Required Commercial License allows you to use ONE graphic or graphic set without having to give credit.
You will need to purchase the listing that you want to use this license on AND this license.
You MUST purchase this extended license from SavanasDesign if:
• you wish to use my graphics without credit or
• views or prints using my graphics exceed 500
▶ ALLOWED:
• Physical Products
• Printed Products
• FLATTENED digital products such as printables and templates
▶ NOT ALLOWED:
• Any use that could be deemed as competitive to my work.
• Using my work to sell to others in any digital format that is not flattened.
• Creating Digital Products to make SVGs, Vector Format, Clipart, Scrapbooking Paper, Patterns, Borders, Cut Files, Digital Scrapbooking, Etc.
• Reselling my work.
• Adapting or Modifying my work and then selling in a digital format.
• Allowing customers to use for commercial purposes other than physical goods.
• Usage over 1,000 prints or physical products. See our Mass Production License: https://www.etsy.com/listing/532582953
There are almost always exceptions - especially for those who ask, just contact me!
For Mass Production See Our License Here: https://www.etsy.com/listing/532582953
All of my listings already come with the intended use for personal or small non-profit use. You are allowed to use my graphics for small commercial reasons up to 500 views or prints >>if credit is given as a link back to my shop<< without an extended license. Please read the entire listing & shop policies BEFORE making your purchase as some listings may differ.
Not sure? Contact me.
▶ HOW TO ORDER
---------------------------------------------
• If you need multiple licenses, adjust the quantity to match the number of graphics or graphic sets you will be using.
• Please list the name of the graphic or graphic sets you will be using without credit in the Note section.
• You will not receive a document with this purchase. You will have to purchase the listing separately.
▶ ADDITIONAL INFORMATION
---------------------------------------------
• This license does not transfer ownership of copyright. Copyright remains with SavanasDesign.
• Do not claim SavanasDesign graphics as your own.
• Do not sell, distribute, or share my work as-is.
• Intended for small to medium commercial purposes only. If views, prints, or products exceed 1,000 buy our Mass Production License: https://www.etsy.com/listing/532582953
If you have any questions or concerns, please message me!
▶ FOLLOW
---------------------------------------------
Shop: www.etsy.com/shop/savanasdesign
Pinterest: www.pinterest.com/savanasdesign
Facebook: www.facebook.com/SavanasDesign
Website: www.savanasdesign.com
© Savana Price