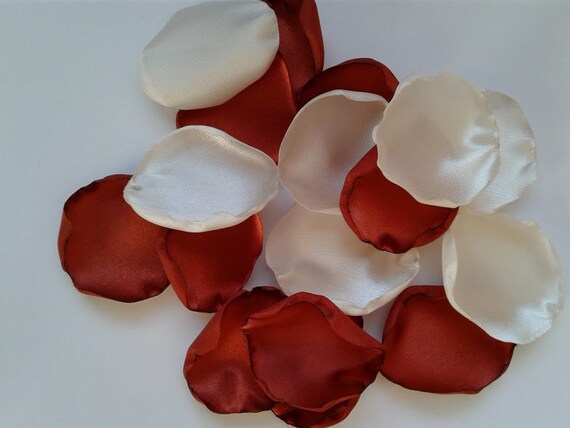 Rustic wedding decorations, fall wedding decor, fall wedding, fall party decor, ivory rose petals, rose petals, wedding rose petals.
By Wedding Decor Garden
Product Info
A wedding wouldn't be a dream come true without rose petals and I specialize in making unique and elegant satin rose petals for your special day. My rose petals are designed to bestow a garden touch to your wedding or event. These rose petals are made of satin.
They are handmade cut and singed to prevent fraying and each of them is approx. 1.5 - 2 inches.
This is what people are saying about my satin rose petals :
" I love them!!!They are beautiful fake petals. They don't look cheap at all, and I will be ordering more."
"They're beautiful in person and fairly large but I definitely need more than 100. This is what 100 looks like.. I'll be ordering more!"
"Very nice! Seller was so nice and answered all my questions so fast! Made me feel at ease and was so helpful:) Great quality and beautiful colors. Shipped so fast:)"
"Replied in a timely matter, & customized my order just the way I needed it. Highly recommend"
You can customize the color of your petals according to your needs. All the colors are always in season! Here you will find even more satin rose petals and trendy combinations to enhance the beauty of your aisle runner and to fill the flower girl baskets : https://www.etsy.com/shop/myperfectgarden?section_id=19334940
Select the " ask question button" on the right if you have any questions about these special satin rose petals.
You can use my satin rose petals to scatter around table centerpieces or to decorate the wedding cake; you can fill favor boxes and invitations to surprise your guests and most importantly; you can invite your special guests to participate in the wedding toss and throw them to you filled with their love and special wishes for you.
-------------------------------------------------------------
This is the approx. quantity of petals that you will need for a wedding:
Flower Girl basket: 100-200 petals( Depends on the size of the basket)
Dining Tables:
50 petals -100 petals(Quantity recommended when you are using rose petals along with centerpieces)
200 petals ( Quantity recommended if you are using rose petals with candles as centerpieces)
Petals for tossing: 15 petals for guest.
----Aisle runner 10 ft length:-------
Border 6" scattered 100 petals
light coverage 200 petals
moderate 500 petals
dense 1,000 petals
My rose petals are 100% Handmade. I personally make every one of them. I sell samples if you do not feel sure about color ;)
These petals are ideal for weddings, baby shower or sweet 16, to celebrate anniversary or to decorate at home. Indeed you are going to fall in love with them!
Purchase your petals today so I can have them ready for you in plenty of time before the wedding.
Made in U.S.A.
Thank you for stopping by!
------------------------------------------------------------------------
***I always combine shipping and refund shipping overages.***