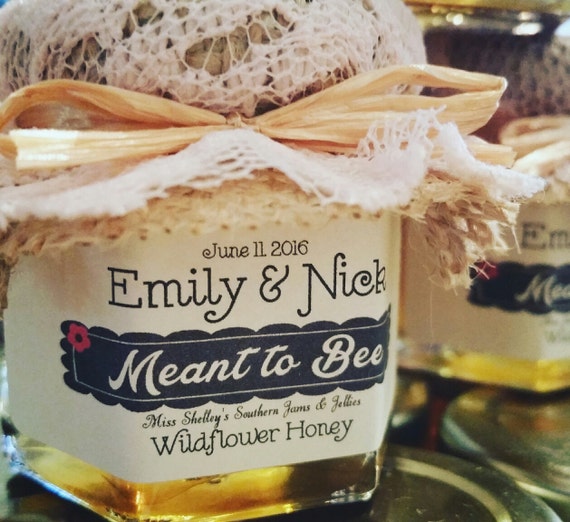 Product Info
Miss Shelley's Southern Jams & Jellies is pleased to offer you the best of both world's! Spread the Love and Meant to Bee are happily married together! This listing is for 25 (1.5oz) Wildflower Honey favors and 25 (1.5oz) Jam favors. Add a little southern charm to your wedding, baby shower, bridal shower, birthday party, brunch club, ladies tea, family reunion or any event that needs a little something sweet!
**Sweet Special - Receive a FREE honey dipper and two FREE jars of jam!**
Each jar comes with a personalized label, your choice burlap topper and raffia ribbon. Choose one honey flavor and one jam flavor using the pull down menu. These sweet treats will make you the belle of the ball!
Jar Size: 1.5oz - Dimensions: 1.75" x 2"
You will receive 25 (1.5oz) jars of Wildflower Honey and 25 (1.5oz) jars Your Choice Jam. Each jar comes with a burlap/lace topper and a personalized label.
RAFFIA RIBBON COLORS:
White, Ivory, Taupe, Oatmeal, Chocolate Brown, Kraft Brown, Gold, Harvest Gold, Light Yellow, Sunflower, Orange, Terra Cotta, Coral, Light Pink, Azalea, Fuchsia Pink, Raspberry, Claret, Wine, Red, Lavender, Purple, Grape, Plum, Teal, Aqua, Caribbean Blue, Navy, Royal Blue, Robin's Egg Blue, Williamsburg Blue, Light Blue, Hunter, Olive, Sage, Apple Green, Emerald, Kelly Green, Jungle Green, Celadon, Black, Charcoal, Cool Gray NEW Colors - Cobalt, Pearl Violet, Pearl Orchid, Pearl Chartreuse, Peach Ombre, Pink/White Ombre
BURLAP TOPPER COLORS: Natural, Natural Sparkle, Black, Chocolate Brown, Light Grey, Charcoal, Platinum, Oyster, Oyster Sparkle, White, Ivory, Purple, Lavender, Eggplant, Butter, Yellow, Orange, Tangerine, Burnt Sienna, Copper, Terra Cotta, Peach, Snap Pink, Fuchsia Pink, Vintage Pink, Barn Red, Burgundy, Olive, Sage, Apple Green, Moss Green, Emerald, Hunter Green, Lime, Avocado, Green Sparkle, Jade, Seafoam, Light Blue, Billow Blue, Robin's Egg Blue, Dark Blue, Sailor Navy, Royal Blue, Ecliptic Blue, Turquoise, Black/Red Plaid, Orange/Natural Plaid, Brown/Rust Plaid, Moss/Royal Blue Plaid, Grey/Plum Plaid, Natural/Black Plaid and Holiday Plaid
KONA COTTON COLORS: Aqua, Medium Grey, Lipstick, Navy, Candy Pink, Corn, Royal, Purple, Orange, Silver, Baby Pink, Chartreuse, Teal Blue, Mint, Salmon, Blue Jay, Lemon, Kiwi, Lavender, Coral, Red, Peach, Ice Peach, Hunter Green, Pepper, Grass Green, Rich Red, Pool, Cappuccino, Bright Pink, Coffee, Fog, Jade Green, Robin Egg, Lilac, Espresso, Orchid, Sour Apple, Cornflower, Cinnamon, Melon, Papaya, Plum, Periwinkle, Jungle, Candy Blue, Watermelon, Cream, Morning Glory, Eggplant, Bordeaux, Blueberry, Crimson, Nectarine, Berry, Sand, Azalea, Mango, Lime, Daffodil, Creamsicle, Spice, Cloud, Magenta, Blush Pink, Cadet Blue, Deep Rose, Ruby, Basil and Honeydew
LACE COLORS: Ivory, White, Blush Tan, Teal, Champagne, Coral Pink, Lavender, Baby Blue, Black, Fuchsia Pink, Royal Blue, Silver, Gold, Navy, Orange, Plum, Hunter, Burgundy, Turquoise, Lime, Mint, Red, Purple, Peach and Brown
POLKA DOT COLORS: Red, Black, Pale Pink, Hot Pink, Bubble Gum, Fuchsia, Spring, Navy, Pale Blue, Royal, Pond, Lime, Chartreuse, Yellow, Gold, Grey, Chocolate, Pepper, Violet, Snow
BABY PRINTS: Baby Stars, Baby Elephants, Owls, Pink Roses, Blue Whales, Little Lambs, Sleepy Bear, Little Ones, Patch Blue, Patch Pink, Baby Footprints Primary Colors, Baby Footprints Pastel Colors, Blue Sky Planes
GINGHAM CHECK: Red, Pink, Blue, Yellow, Lime, Hunter, Brown, Navy, Blue, Pink, Fuchsia, Orange, Lilac, Purple, Lavender, Mint, Berry, Aqua
BEE FABRIC: Yellow Bee Charm, Buzzy Bee Aqua & Pink, Buzzy Bee Baby Blue
CHEVRON: Pink, Navy, Blue, Grey, Grey & Pink, Royal, Purple, Orange, Fuchsia, Turquoise, USA (4th of July)
VINTAGE FLORAL: Pink, Blue, Green, White, Yellow, Lavender, Red
HOLIDAY PRINTS: Valentine's Day, Easter, Summer Party, Thanksgiving and Christmas
As my gift you will receive a 2oz jar of honey and a 2oz jar of jam just for you! Wishing you blessings from the heart of my southern kitchen with love as sweet as tea!
Thank you for all your orders! I am tickled pink that you love my sweet treats. Orders are racing in like horses at the Kentucky derby and I can't drink my mint juleps fast enough. I would wear my hat while cooking but the flowers seem to wilt!
I thank the Lord for opening the door on this new adventure and praise Him for all the success. "O, taste and see that the Lord is good." Psalm 34:8
May the Lord bless and "preserve" you and keep you safe in all your "mini jams"!
Each loving batch is made with only the freshest ingredients, no preservatives and hand stirred by Miss Shelley. There are no gluten ingredients in our products. Get ready to make your event sweet with Miss Shelley's Southern Jams & Jellies as a special lip smacking treat! Thanks for taking a peek at my shop. Serving treats from the heart of my southern kitchen with love as sweet as tea. May your day be filled with sunshine and blessings sent from the good Lord above!
Can I get an amen..
With love as sweet as tea,
Miss Shelley