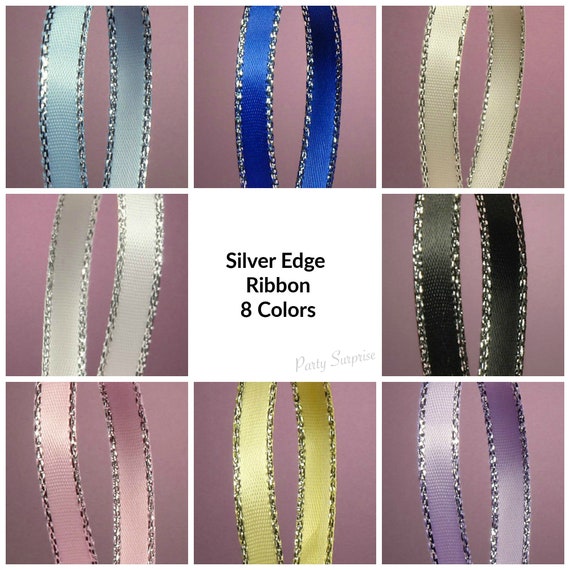 Ribbon by the Yard Metallic Silver Edge Satin Ribbon 8 Colors Black White Royal Blue Ivory, Pastel Ribbon yellow pink blue lavender
By Party Surprise, Etsy
Product Info
Satin Ribbon by the Yard
Available in 8 colors.
All colors have metallic silver edging. Ribbon is 1/4" W.
Colors:
Black
White
Ivory
Royal Blue
Pastel pink
Pastel blue
Pastel yellow
Pastel lavender
HOW TO ORDER:
* From the drop down in the order box, select the number of yards you want.
* From the 2nd drop down, select the color.
* Add to your cart. Repeat to add additional items.
Perfect for gift wrap, decor, clothes trim, bows.
For more ribbon and bows:
www.etsy.com/shop/PartySurprise?ref=shop_sugg&section_id=15305665
************************************
Don't forget your balloons, balloon arch/garland kits, photo prop sets, fancy straws, tableware sets, mini popcorn boxes, Euro gift bags, gift/favor/treat bags, tissue tassel garlands & balloon tails, custom wedding confetti wands, party tableware, disposable cutlery, cake toppers, and cupcake toppers & wrappers - I have what you want!
Balloon color and size charts here:
www.etsy.com/shop/PartySurprise?ref=hdr_shop_menu&search_query=color+chart
Confetti Balloons & Table Confetti:
www.etsy.com/shop/PartySurprise?ref=shop_sugg§ion_id=25395318
Hot Air Balloons:
www.etsy.com/shop/PartySurprise?ref=shop_sugg&search_query=hot+air+balloon
Balloon arches/garlands:
www.etsy.com/shop/PartySurprise?ref=shop_sugg&search_query=garland
Photo Prop Sets:
www.etsy.com/shop/PartySurprise?ref=shop_sugg§ion_id=22959761
Disposable Cutlery:
www.etsy.com/shop/PartySurprise?ref=shop_sugg&search_query=cutlery
Fancy Straws: www.etsy.com/shop/PartySurprise?ref=hdr_shop_menu§ion_id=14449328
Party Tableware:
www.etsy.com/shop/PartySurprise?ref=shop_sugg§ion_id=15478643
Mini Popcorn Boxes: www.etsy.com/shop/PartySurprise?ref=hdr_shop_menu§ion_id=15478643
Tassel Garlands: www.etsy.com/shop/PartySurprise/items?ref=pagination§ion_id=19770755
Custom Number Cards:
www.etsy.com/shop/PartySurprise/items?ref=pagination§ion_id=19936436
Cupcake Wrappers: www.etsy.com/shop/PartySurprise?ref=hdr_shop_menu&search_query=cupcake+wrappers
Cupcake Toppers: www.etsy.com/shop/PartySurprise?ref=hdr_shop_menu&search_query=cupcake+topper
Favor and Treat Bags: www.etsy.com/shop/PartySurprise?ref=hdr_shop_menu§ion_id=14448891