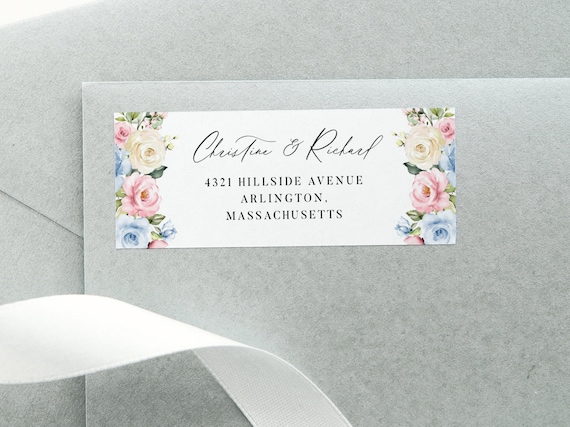 Return Address Label Template - Rustic Dusty Blue and Rose Pink Wedding Sticker, Editable Avery & Vista Print Home Addressing, Corjl, CHLOE
By Balearica Studio on Etsy
Product Info
Rustic Return Address Label Template. Dusty Blue and Dusty Pink Wedding Address Sticker. Avery and Vista Print Home Addressing Templates. Use these templates to edit fonts, font colors, and background colors as you wish.
✓ NO EXPIRATION DATE!
This is a DIGITAL TEMPLATE - you can instantly edit yourself via the Corjl website, it's quick and easy! You will receive an email from CORJL.COM just moments after purchase to edit your template.
For details please visit FAQ section in my shop.
Download and print at home or with a professional service or local print shop.
↓ TRY BEFORE YOU BUY ↓
▬▬▬▬▬▬▬▬▬▬▬▬▬▬▬▬▬
https://www.corjl.com/d/1E4NL0
→ TRY IT NOW! Please Copy and Paste Link To Your Web Browser (works best in Chrome browser)
→ NO need to download any software or special fonts
HOW TO EDIT
▬▬▬▬▬▬▬▬▬▬▬▬▬▬▬▬▬
This video tutorial will help you edit your template (please copy and paste link to your web browser) - https://www.youtube.com/watch?v=tH6R53b4dm4
MATCHING ITEMS (sold separately):
▬▬▬▬▬▬▬▬▬▬▬▬▬▬▬▬▬
https://www.etsy.com/shop/BalearicaStudio?search_query=CHLOE
WHAT YOU WILL RECEIVE:
▬▬▬▬▬▬▬▬▬▬▬▬▬▬▬▬▬
Customizable templates for the following items, each of which can be entirely edited by you:
∙ 2,67" x 0,83"— Return Address Label (VistaPrint)
∙ 2 5/8" x 1" — Return Address Label (Avery)
∙ 2 5/8" x 1" — Return Address Label. Full sheet Avery template 8.5" x 11".
∙ Guide (how to get access to your template) (JPG)
∙ Instruction (how to edit the template) (PDF)
AVERY TEMPLATE COMPATIBILITY
▬▬▬▬▬▬▬▬▬▬▬▬▬▬▬▬▬
∙ AVERY return Labels 1" x 2-5/8"- 15660, 15700, 15960, 16460, 16790, 18160, 18260, 18660, 22837, 28660, 32660, 38260, 45160, 48160, 48260, 48360, 48460, 48860, 48960, 5160, 5260, 55160, 5520, 5620, 5630, 5660, 58160, 58660, 5960, 6240, 6521, 6525, 6526, 6585, 75160, 80509, 8160, 8215, 8250, 8460, 85560, 8620, 8660, 88560, 8860, 8920, 95520, 95915, Presta 94200, 64501, Presta 94201, Presta 94200
EDITING OPTIONS:
✓ Text
✓ Font
✓ Font Color
✓ Background Color
✓ Add your own images
✗ You CANNOT change the page size or orientation of the templates
✗ You CANNOT change the color of the illustrations
DOWNLOAD OPTIONS:
After editing the document, you have the options to save the document as:
∙ JPEG ∙PDF ∙PNG
PRINT INSTRUCTIONS FOR AVERY:
▬▬▬▬▬▬▬▬▬▬▬▬▬▬▬▬▬
1. Personalize your design in Corjl, then download it as a single JPEG to your documents.
2. You are now ready to print your labels to do this copy and paste this link into your browser:
► https://www.avery.com/templates/category/address-~-shipping-labels?filters=size_1%22%20x%202-5/8%22
3. Select the template number you need. This will take you straight to the page you need to upload your design. But firstly create your free account.
4. Then just follow the instructions to upload your design into the Avery template.
5. Simply insert your jpeg, and you are ready to print yourself or let Avery do this for you!
................................................
★ IMPORTANT INFORMATION★
PLEASE READ
................................................
★ Colors are displayed as accurately as possible, however, an on-screen proof cannot perfectly match the color and density of your printed file.
★ By purchasing this item you are agreeing to my Shop Policies.
★ Instant downloads are NON-refundable.
★ PLEASE NOTE, THIS IS A DIGITAL DOWNLOAD ONLY.
★ This items for PERSONAL USE ONLY. Can be printed as many times as you like, but cannot be resold without my permission.
If you have any questions or concerns, please let me know!
❤ Thank you for stopping by
ⓒ BalearicaStudio.