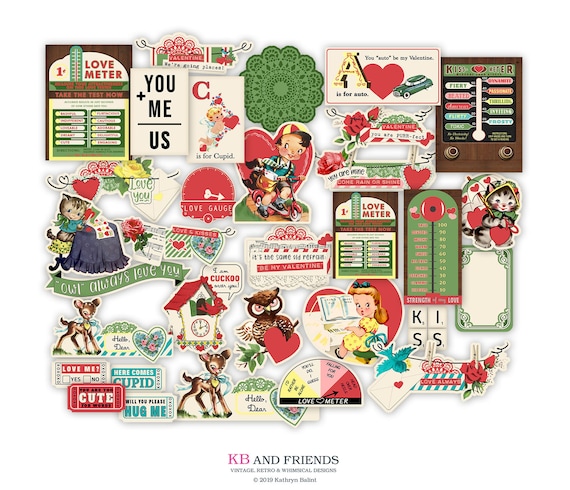 Retro "Love Meter" Valentine's Day Digital Ephemera & Cards for Crafts / vintage valentines / printable collage sheets / JPEG, PDF, PNG
By KB and Friends
Product Info
These vintage-style "love meters" and other scrapbook ephemera that we've designed for Valentine's Day will add a touch of whimsy to your digital scrapbook pages, junk journals, pocket scrapbooks, greeting cards or other paper crafts.
→ These digital embellishments must be downloaded. You will not receive a physical product in the mail.
More about these retro style Valentine's Day digital scrapbook embellishments:
❤ There are 30 designs in all. They include an old-fashioned, coin-operated love meter, a love gauge, a kiss meter, vintage Valentine's Day children and animals, word art layered with lace and doilies, tickets and flash cards. The coin-operated love meter and deer come in two sizes.
❤ Whether you are a digital scrapbooker who wants to use these cards digitally or a paper scrapbooker who wants to print them, this kit has you covered. You'll get the cards as individual JPEG and PNG files, as well as in print-ready JPEG files and a print-ready PDF.
❤ Here are some examples of sizes: The 1-cent coin-operated Love Meter and Kiss Meter are 3" by 4"; C for Cupid and the You + Me flash cards are 2" by 3"; the "auto" is 4" by 2"; the smaller coin-operated Love Meter is 2.25" by 3"; These measurements are approximate and are based on printing at full 300-pixel-per-inch resolution. Remember, depending upon your printer, you can generally print these cards in smaller sizes by adjusting your printer settings.
❤ One ZIP file contains all of the elements that have been saved individually as either JPEGs or PNGs. You will need to unzip, or extract, the ZIP file to be able to access the graphics within. Both Windows and Mac computers have built-in software to unzip ZIP files.
❤ A second ZIP file contains four JPEGs that are ready to print on 8.5" by 11" paper or card stock. There are several cards or embellishments on each ready-to-print page.
❤ Finally, for those who don't want to bother with a ZIP file, we offer a PDF that contains the four print-ready pages.
❤ Predominant colors include red, off-white, cream, yellow, green, and blue. Some of these digital graphics are distressed, with creases, darkened edges or worn marks for an authentic vintage feel.
You may have these printed by a professional printer as long as you plan to use these cards in accordance with our terms of use.
The purchaser of these files may print or use them for personal, non-commercial uses, including education. In addition, the small business person who makes handmade physical products, such as scrapbooks or greeting cards or party supplies, may print and use these digital graphics in creative products that he or she sells. The end product must be a tangible product, handmade by the purchaser and must not be mass produced. The graphics may not be printed as sold as a set "as is;" instead, they must be incorporated into a creative product. These graphics may not be used in digital products. Thank you.
::The graphics are created by Kathryn Balint of KB and Friends™. These graphics, both in the item for sale and in this listing, are uniquely ours and are copyrighted. By purchasing and downloading this file, you agree t our terms of use. You may not share, redistribute or sell these graphics in digital format.
Please read the entire product description as we do not offer refunds on purchases of digital items. Contact us if you have any questions.