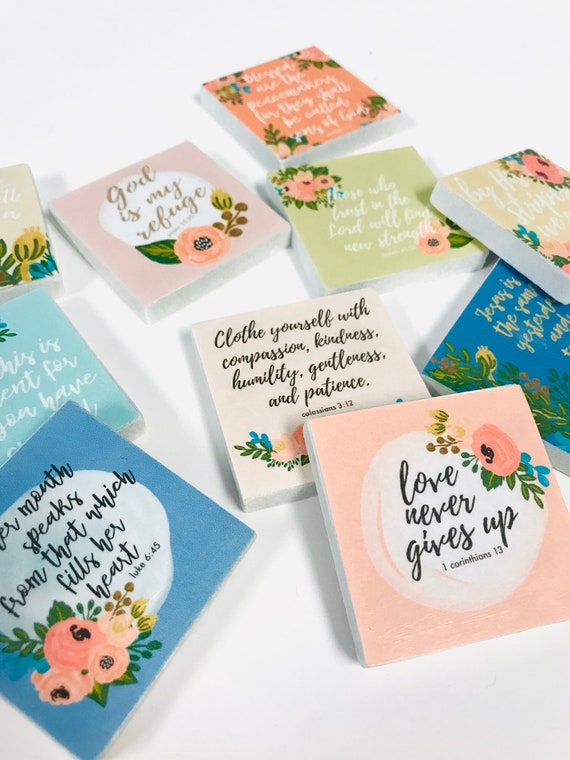 Remembrance Stone, bible verse reminder. Ceramic trinket, gift idea, scripture, Keepsake, Pocket Prayer, Small Gift, Sympathy Gift
By Paper Polaroid
Product Info
All of us are prone to forget the things God has done for us. We need reminders. When Joshua led God's people towards their new home, they had to cross the Jordan River (Joshua 3:15–16). God parted the waters, and His people walked through on dry land (v. 17). To create a memorial of this miracle, they took twelve stones from the middle of the riverbed and stacked them on the other side (4:3, 6–7). When others asked what the stones meant, God's people would tell the story of what God had done that day.
Physical reminders of God's faithfulness in the past can remind us to trust Him in the present—and with the future.
One of my favorite reminders is a shell I painted with Gen 50:20 written out.
These ceramic stones are hand made, sealed and made to be displayed indoors.
They measure 2"x2" and come ready to gift in pretty tissue and organza bag.
They make a great gift for friends, family members who will appreciate a visible reminder of a GREAT God's love for His children.
choose from these 10 designs:
1. BY HIS STRIPES WE ARE HEALED (HEALING/FAITH/HOPE/)
2. GOD IS MY REFUGE (SAFETY/TRUST/REST)
3. HER MOUTH SPEAKS FROM THAT WHICH FILLS HER HEART (WOMAN OF FAITH/ HONOR/WISDOM)
4. JESUS IS THE SAME YESTERDAY, TODAY AND FOREVER (FAITHFUL/UNCHANGING/ STEADFAST/TRUSTWORTHY)
5. BLESSED ARE THE PEACEMAKERS FOR THEY SHALL BE CALLED SONS OF GOD (PEACE/WISDOM)
6. LOVE NEVER GIVES UP (LOVE/HOPE/STEADFAST)
7. THOSE WHO TRUST IN THE LORD WILL FIND NEW STRENGTH (TRUST/ENDURANCE/PEACE/JOY)
8. PERHAPS THIS IS THE MOMENT FOR WHICH YOU HAVE BEEN CREATED (PURPOSE/TRUST/TIMING/FAITH)
9. WHEN I AM AFRAID I WILL TRUST IN YOU (FEAR/ANXIETY/SAFETY/PROTECTION)
10. CLOTHE YOURSELF IN COMPASSION, KINDNESS, HUMILITY, GENTLENESS AND PATIENCE (PUT ON THE SPIRIT OF GOD/REMINDER)