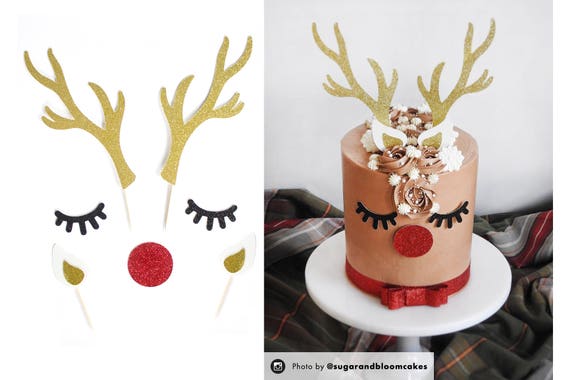 Reindeer Cake Topper, Holiday Cake Topper, Christmas, Christmas Topper, Christmas Decoration, Christmas Party, Rudolph, Holiday Decoration
By PaperlyPress
Product Info
This listing is for everything seen in the listing photo (besides the gorgeous cake!) and includes 2 gold glitter antlers, 2 black glitter eye lashes, 2 white and gold glitter ears, and one sparkly red glitter nose. Dimensions are below:
Antlers: 6" tall x 3.5" wide
Eyelashes: 1.5" wide x 0.8" tall
Ears: 1.75" wide x 1.8" tall
Nose: 1.75" diameter
Nervous about attaching the eyelashes or nose to your cake? Don't worry! You can use a little bit of frosting on the back of each shape to attach them to your cake, and they should stick no problem!
Let your inner unicorn shine at Christmas with this gold glitter Rudolph holiday cake topper. Reindeer can be the unicorns of the holiday season, and this cake topper is sure to be a hit at any holiday party. It's the perfection holiday decoration for a simple holiday cake, that anyone can put together.
Please let us know if you have any questions and thank you so much for stopping by!
Holiday decoration, Christmas cake decoration, Christmas party decoration, Christmas decoration, Christmas party decor, Christmas party, Reindeer, Christmas cake topper, Christmas cake, Christmas cake toppers, Christmas topper, reindeer, holiday decor, Christmas decorations, Christmas decor, Christmas, reindeer cake topper, Holiday party, Christmas food, cupcake topper, christmas pick, xmas decor, xmas party, xmas decorations, xmas decoration, xmas cupcakes, xmas cupcake toppers, christmas party supply, christmas party supplies, xmas party supply, Christmas party, holiday party, gold glitter, gold cake topper, holiday party decor, reindeer food.