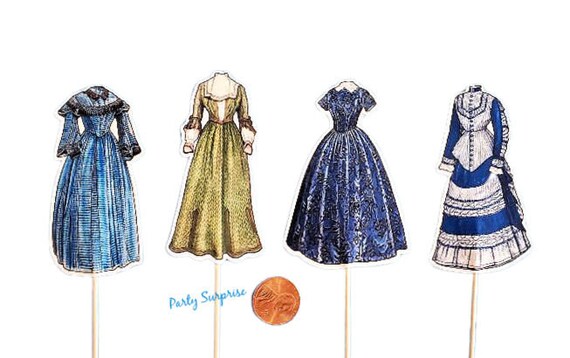 Regency Period Womens Gowns Dresses Cupcake Cake Toppers Bridgerton Party Decor Toppers Custom Hand Made Bridal Shower Engagement Toppers
By Party Surprise, Etsy
Product Info
Brand new! Are you a Bridgerton fan, like me? Then you'll LOVE these new sets of cupcake & cake toppers, and banners, all custom made for you!
Made of strong card stock, attached to wooden stick, same on both sides.
Measures about 3" high.
You can order all women or all men, or both!
You can order cupcake toppers, cake toppers, and banners!
For just women gowns - includes the four gowns photo 1 above.
Just men's outfits - includes the four top coats photo 3&4 above.
So many choices!!!!
Let me know if you need assistance.
To see more Regency listings:
www.etsy.com/shop/PartySurprise?ref=shop_sugg&search_query=regency
**********************************
HOW TO ORDER:
* Go to the DROP DOWNS in the ORDER box, select the number of cupc (cupcake) toppers, cake t (toppers), and/or banners you want.
* Repeat to add more items.
* Fill in DATE of event in personalization box - if there is an issue with your order, I will contact you here on etsy, please make sure to check for messages. If I don't hear back, I may need to regretfully cancel your order if I needed answers from you, and I hate to have to do that.
* Cupcake Wrappers:
www.etsy.com/shop/PartySurprise?ref=shop_sugg&search_query=cupcake+wrappers
Free standard shipping for orders $35.+ Optional upgraded shipping available when checking out.
***********************************
Don't forget your balloons, balloon arch/garland kits, photo prop sets, fancy straws, tableware sets, mini popcorn boxes, Euro gift bags, gift/favor/treat bags, tissue tassel garlands & balloon tails, custom wedding confetti wands, party tableware, disposable cutlery, cake toppers, and cupcake toppers & wrappers - I have what you want!
Balloon color and size charts here:
www.etsy.com/shop/PartySurprise?ref=hdr_shop_menu&search_query=color+chart
Confetti Balloons & Table Confetti:
www.etsy.com/shop/PartySurprise?ref=shop_sugg§ion_id=25395318
Hot Air Balloons:
www.etsy.com/shop/PartySurprise?ref=shop_sugg&search_query=hot+air+balloon
Balloon arches/garlands:
www.etsy.com/shop/PartySurprise?ref=shop_sugg&search_query=garland
Photo Prop Sets:
www.etsy.com/shop/PartySurprise?ref=shop_sugg§ion_id=22959761
Disposable Cutlery:
www.etsy.com/shop/PartySurprise?ref=shop_sugg&search_query=cutlery
Fancy Straws: www.etsy.com/shop/PartySurprise?ref=hdr_shop_menu§ion_id=14449328
Party Tableware:
www.etsy.com/shop/PartySurprise?ref=shop_sugg§ion_id=15478643
Mini Popcorn Boxes: www.etsy.com/shop/PartySurprise?ref=hdr_shop_menu§ion_id=15478643
Tassel Garlands: www.etsy.com/shop/PartySurprise/items?ref=pagination§ion_id=19770755
Custom Number Cards:
www.etsy.com/shop/PartySurprise/items?ref=pagination§ion_id=19936436
Cupcake Wrappers: www.etsy.com/shop/PartySurprise?ref=hdr_shop_menu&search_query=cupcake+wrappers
Cupcake Toppers: www.etsy.com/shop/PartySurprise?ref=hdr_shop_menu&search_query=cupcake+topper