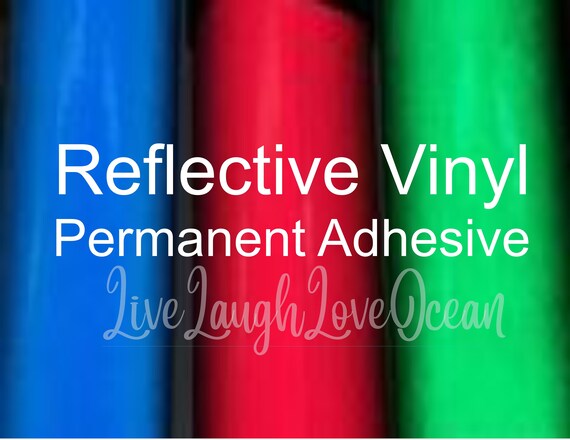 Red Reflective Vinyl, Blue Reflective Vinyl, Green Reflective VInyl, Permanent Adhesive Highly Reflective Vinyl, Safety Vinyl, Sign Vinyl
By Live Laugh Love Ocean
Product Info
Red Reflective Permanent Adhesive Sign Vinyl, Blue Reflective Vinyl, Green Reflective Vinyl, Safety Vinyl, Craft Vinyl, High Visibility High Performance Reflective Vinyl.
Reflective colors available:
Reflective Red, Reflective Blue, and Reflective Green.
If you are ordering more than one section of the same color vinyl, you will receive one continuous roll. Unless you request for it to be cut into exact sections. ( For example- 2, 12x12 sections. You will receive a 12x24 roll)
High Performance Vinyl is a premium film with a permanent, solvent based acrylic adhesive. With an exterior durability of 6 to 8 years. This film offers excellent cutting, weeding and transferring, which will dramatically improve your productivity.
If using on tumblers, drinkware or dishware HANDWASH only. Do not place in the dishwasher or microwave.
I also have a variety of Indoor/outdoor Vinyl, in glitter, matte, and gloss finish.
Many colors to choose from! Contact me for a custom order.
Need a different size or a large order? For a bulk price & shipping discount please message me with your request.