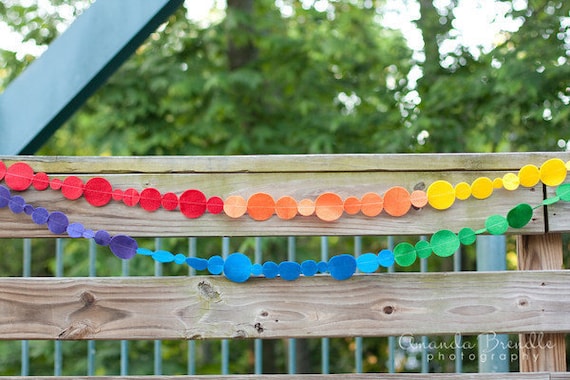 Product Info
Somewhere, over the the (eco-friendly felt) rainbow (garland)!
Rainbows are awesome. They complement so many themes and photograph really well. This particular rainbow garland was inspired by a baby's first birthday party. But, you could use it for so much more...
-Birthday Party Decoration
-Baby Shower
-Wizard of Oz Party
-Photography Prop
-Storefront Decoration
-Hang across your mantle
-Swoop up a staircase
This garland is made from eco-friendly cuts of felt in circle formation. There is a variety of red, orange, yellow green, blue and purple felt, sewn together in that order. Each circle measures an inch to about 2 1/2 inches in diameter. The garland is about 7 feet in length. There is an additional foot or so of baker's twine on each end to make hanging super easy!