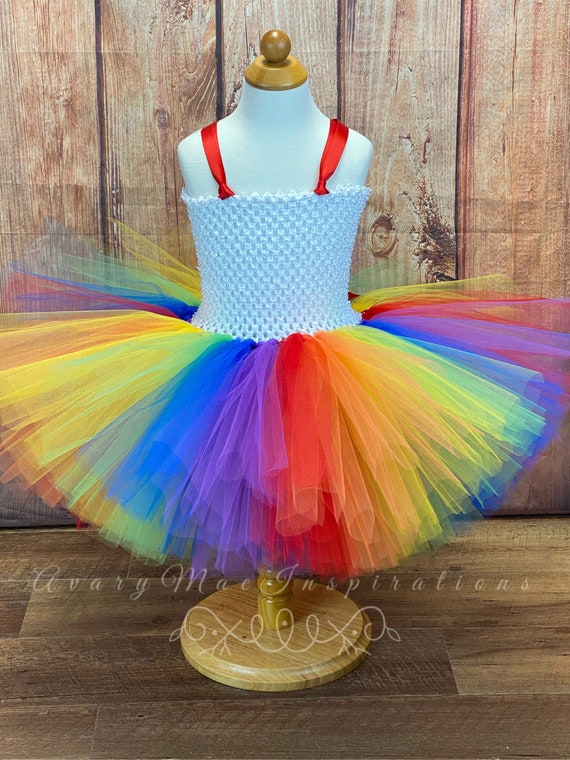 Tutu Dress, Rainbow Birthday Outfit, Primary Rainbow Tutu, Brite Rainbow Party Skirt, Carnival Toddler Costume, Coco Melon Birthday Outfit
By AvaryMaeInspirations
Product Info
Tutu Dress, Rainbow Birthday Outfit, Primary Rainbow Tutu, Brite Rainbow Party Skirt, Carnival Toddler Costume, Coco Melon Birthday Outfit
Colors used in tulle: Red, Orange, Yellow, Green, Blue and Purple.
Our Tulle Tutu dresses and made very full and fluffy with 8 layers of soft tulle. I use lined Crochet tops that are very soft and not see through.
Length in photo is 10" Long.
Please include the following measurements in the notes section of the order.
1. Around the chest
2. From her belly button to the length desired. This is the "Length" you chose.
If no measurements are sent, standard sizing length will apply.
♦Our adorable headband is made with shabby flowers Chiffon Frayed Flowers. The headband can be worn on the top or the side of the head. It's super soft and light and fits any size. The size is 1.5" H x 7" W.
♦Bubblegum Bead Colors- Red, Orange, Yellow, Green, Blue and Purple.
Measures approx 15" Long. Great photo prop or just to dress up any outfits.
♥7" Lined Top: Fits 12 Mos-24 Mos. Relaxed, these tutu tops measure approximately 7" from top to bottom and approximately 7" wide. Stretched, these tutu tops measure approximately 20- 22" in circumference. These tops are lined with soft and stretchy fabric, so no worries about adding extra layers!
Tulle-7" Length
♥8" Lined Top: Fits 2T- 3T- Relaxed, these tutu tops measure approximately 8" from top to bottom and approximately 8" wide. Stretched, these tutu tops measure approximately 22-24" in circumference. These tops are lined with soft and stretchy fabric, so no worries about adding extra layers!
2 T-Tulle 8" Length
3T- Tulle 8" Long
♥9" Lined Top: Fits 4T-5- Relaxed approximately 9" from top to bottom and approximately 9" wide. Stretched approximately 25-28" in circumference. Sizing may vary by an inch or so in each direction by batch. They should fit most girls 4 to 5 years.
4T- Tulle-10" Long
5-Tulle-10" Long
♥10" Lined Top: Fits 6-8 Relaxed, these tutu tops measure approximately 10" from top to bottom and approximately 10" wide. Stretched, these will measure approximately 29-32" in circumference. Sizing may vary by an inch or so in each direction. They should fit most girls up to 6-8 years.
6-Tulle-12" Long
7-Tulle-12" Long
8-Tulle-12" Long
Please note that age recommendations are for reference only. Because each child is unique, we highly recommend measuring the child before placing an order.
Join our Email list for Discounts and Exclusive Offers! https://bit.ly/35otpMQ