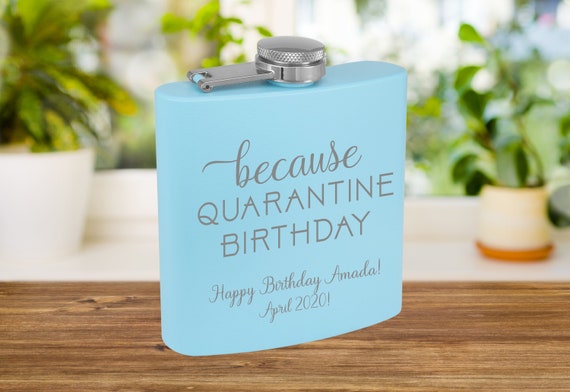 Because Quarantine Birthday Flask | Personalized Flask | Pandemic 2020 | Quarantine Hip Flask | Social Distancing / Quarantine 2020
By Great Little Favor Co
Product Info
She'll take a drink in style with these beautiful matte flasks, a perfect gift for your fun-loving friends who are stuck in quarantine. Offer them at your upcoming bachelorette party and drink to good times… past, present and future or give them as a birthday present to celebrate their special day. These custom flasks make a unique gift. Covered in an eye-catching matte coating the ladies stainless steel hip flask is stylish and sophisticated. Perfect for birthdays, sporting events, tailgating, or as a unique gift for bridesmaids, it holds 6 oz. of her favorite liquor. Each custom custom flask can be engraved to your specifications and is made of stainless steel and has a matte colored coating. The matte coating is available in white, navy, teal, royal blue, red, powder blue, light pink, pink, orange, burgundy, green, purple, or black.
Custom Bridal Flask Details:
Our custom bridal flasks hold 6 ounces and are available in an assortment of finishes.
All bridal party flasks are engraved to your specifications.
Select from a variety of styles
Choose from one of three gift box sets, or no box set (which is a flask only).
All engraving is on the flask only. Gift Boxes are not engraved.
Powder Coated Flasks feature a silver bottom color
Each flask measures 3 5/8" Length x 4 3/8" Height x 7/8" Width
Each flask is BPA-FREE
There is no limit to the amount we can engrave. If you need something made custom, please reach out to us.
Powder Coated Custom Flask Finishes:
Our matte finished flasks have a hard powder coating which is available in a multitude of colors: white, navy, teal, royal blue, red, powder blue, light pink, pink, orange, burgundy, green, purple, or black. . When engraved, it will reveal the silver finish underneath.
How to Order:
1.) Select from one of the twelve style options you would like from the drop down menu
see images for all options.
2.) Then select the color/finish you want with the gift box type in the 2nd drop down menu
You can choose from
"Single Flask, No Box"
"Gift Box A" (Single flask in white gift box)
"Gift Box B" (Single flask with funnel in black gift box) or
"Gift Box C" (Single flask with four black shot glasses and a funnel in a black gift box)
3.) finally, enter your text in the personalization field exactly as you want it engraved.
Line 1:
Line 2:
Line 3:
Font Style: If Different
Please send proof: Y/N
Contact number if we have questions: optional
4.) Checkout
Please message us if you would like something custom designed for you or if you have any questions. Engraving will be completed exactly as shown unless another option is requested
We will email/message you a proof of what your engraving will look like, only if requested in the notes.