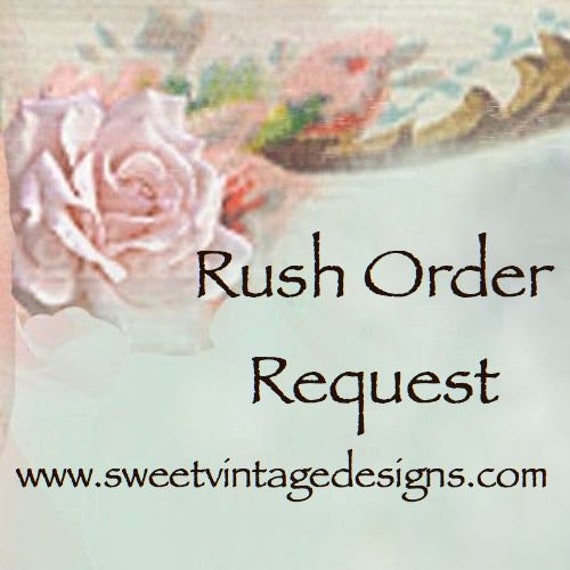 Please Process My Order Before All Other Orders -- Bump To The Front of the Line -- I Need My Order In A Hurry -- Please Rush My Order RUSH
By Sweet Vintage Designs
Product Info
ATTENTION JULY 29, 2020: Due to the Covid19/Coronavirus pandemic, your order may be delayed in shipping/processing/tracking with the postal office (USPS) in various parts of the United States. This is out of my hands, and by placing an order, you fully understand this and do not hold me responsible for any delays in receiving your order. We all need to be patient during this most difficult time, and I truly appreciate your patronage, patience and understanding. By placing an order you agree to this.
Thank you very much,
Shell, Owner of Sweet Vintage Designs
PLEASE READ ITEM DESCRIPTION BELOW BEFORE PLACING YOUR ORDER:
RUSH MY ORDER means your order will be processed/made within 48 hours (2 BUSINESS days) from the time you place your order.
This DOES NOT INCLUDE SHIPPING/POSTAL TIME.
If you need order shipped in a hurry in addition to my rush processing, you will be given that choice upon paying for everything when you check out.
*THIS IS AN ADD ON to your order and not a physical product. This is for putting your order ahead of all others in line for production.
This is for EACH item you order.
Example:
Ordering one item? then add one of these to your shopping cart.
Ordering two items? Then add two of these to your shopping cart.
Ordering three items? Then add three of these to your shopping cart.
Here are my processing times for rush orders:
Orders placed on Monday will ship on the following Wednesday.
Orders placed on Tuesday will ship on the following Thursday.
Orders placed on Wednesday will ship on the following Friday.
Orders placed on Thursday will ship on the following Monday.
Orders placed on Friday, Saturday and Sunday will ship on the following Tuesday.