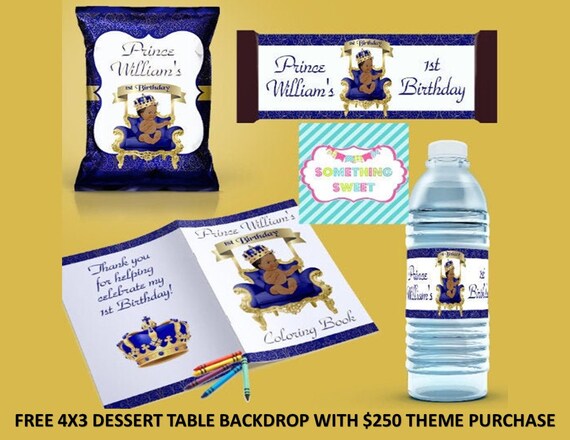 Little Prince Birthday Party, Prince Theme Chip Bag, Prince Party Supplies, Custom Party Favors, Prince Theme Coloring Book, Prince Shower
By SOMETHING SWEET PARTY FAVORS
Product Info
Custom Prince Party Theme is great for birthdays or baby showers. These custom favors are perfect for birthday parties, class parties, and more!
These custom party items are sure to make your party pop!
PHOTOS: There is a $5 Photo Fee. Add photo fee listing to your cart:
https://www.etsy.com/SomethingSweetFavors/listing/526279582/photo-fee-only?utm_source=Copy&utm_medium=ListingManager&utm_campaign=Share&utm_term=so.lmsm&share_time=1505225899129
**PLEASE NOTE: ALL CHIP BAGS AND COLORING BOOKS WILL HAVE A WHITE BORDER**
12 Potato Chip Treat Bags (printed & shipped flat - you must assemble, fill and seal - adhesive is not included)
Square Invitations include Envelopes (@ 4.2 x 5.5 inches)
1.2inch Lollipop Favors Come Assembled. Labels only are 1.2 Inch; 48/sheet
Kiss Label Sheet - 100/sheet
Capri Sun, Gatorade & Water Bottle Labels (NOT WATERPROOF)
Ticket Invitations - Does not include envelopes
Gift Bag Labels (Size is 2x3 - 3x4 inches)
3 inch labels (12 per set)
Applesauce label is 2.5 Inch
Bubble labels fits "MOST" 4oz Bubble Bottles
Mini & Full Sized Candy Wrappers ONLY (chocolate not included)
Party Bags with Labels (These are paper lunch style bags - color will match theme)
Gable Boxes with Labels (Choose color in notes at checkout) Red, Purple, Yellow, Blue, Orange or Green) - @ 6 inch boxes
Treat Bags with Toppers (these are the clear cellophane bags with attachable topper which you will assemble after adding snacks)
Food Table Cards (Include 12 foods in notes or they are sent blank)
VIP Passes come with lanyard
♥Available Backdrop Sizes♥
Select the Size you need from the Drop Down Menu (Size is shown Width x Height)Table Backdrops (4 x 3; 8 x 3; 5 x 6 or 6 x 6 )
FOR INVITATIONS, YOU MUST APPROVE THE PROOF BEFORE ANYTHING IS PRINTED. BE SURE TO CHECK YOUR ETSY EMAIL FOR YOUR PROOF.
PROCESSING TIME IS 10 BUSINESS DAYS(M-F).
PACKAGE #1 $105
12 Printed Flat Chip Bags (YOU ASSEMBLE)
12 Coloring Books
12 Water Bottle Labels (NOT WATERPROOF)
12 2.5 Inch Labels (Can be used on Applesauce, mason jars, etc)
24 Assorted Lollipop Favors
PACKAGE #2 - $195
12 Printed Flat Chip Bags (YOU ASSEMBLE & FILL)
12 Coloring Books
12 Water Bottle Labels (NOT WATERPROOF)
12 2.5 Inch Labels (Can be used on Applesauce, mason jars, etc)
24 Assorted Lollipop Favors
12 Capri Sun Labels (Not Waterproof)
12 Party Buttons
12 Candy Wrappers (WRAPPERS ONLY)
12 Paper Party Bags
12 Cupcake Toppers
PACKAGE #3 - $270
12 Printed Flat Chip Bags (YOU ASSEMBLE & FILL)
12 Coloring Books
12 Water Bottle Labels (NOT WATERPROOF)
12 2.5 Inch Labels (Can be used on Applesauce, mason jars, etc)
24 Assorted Lollipop Favors
12 Capri Sun Labels(Not Waterproof)
12 Party Buttons
12 Candy Wrappers(WRAPPERS ONLY)
12 Paper Party Bags
12 Cupcake Toppers
12 Rice Krispies Wrappers(WRAPPERS ONLY)
12 Fruit Snack Wrappers(WRAPPERS ONLY)
12 VIP Passes w/Lanyard
PACKAGE #4 - $315
24 Printed Flat Chip Bags (YOU ASSEMBLE & FILL)
24 Coloring Books
24 Water Bottle Labels (NOT WATERPROOF)
24 Capri Sun Labels
24 2.5 Inch Labels (Can be used on Applesauce, mason jars, etc)
48 Assorted Lollipop Favors
24 Paper Party Bags
24 Fruit Snack Wrappers (WRAPPERS ONLY)
Like Us On Facebook
https://www.facebook.com/pages/Something-Sweet-Party-Favors-LLC/84244518546