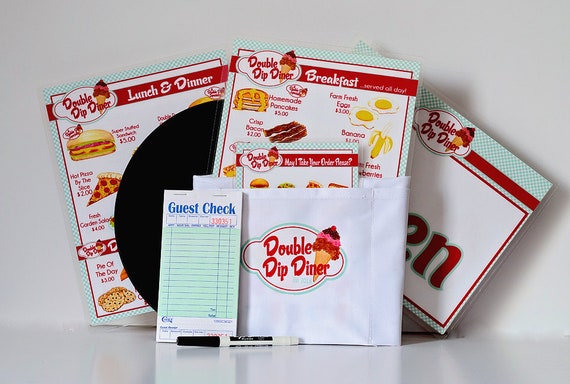 PERSONALIZED Pretend Play Restaurant menu kitchen toy Kids/vintage/gift for kids/educational toy/handmade/trending now/popular now
By Sweet by Candy
Product Info
IF ORDERING FOR CHRISTMAS YOU MUST HAVE YOUR ORDER PLACED FOR PERSONALIZED SETS BY DECEMBER 11TH FOR CHRISTMAS DELIVERY.
Pretend Play Restaurant Diner Menu Set DELUXE SET
Every child loves to play restaurant! Think back to your own childhood...it's a game that is played over and over in homes across the world! There are so many wonderful products to enable kids to play kitchen/restaurant in their own home. There are adorable kitchen sets, adorable play food sets etc. But until now there has not been any menu sets to help facilitate that play! Finally there is a product that allows every child's imagination to come to life as they own their own Diner, Pizza shop. Bakery, Movie Theater etc.
Bring your child's pretend play to life with their very own Diner
♥A charming and nostalgic retro Diner set to encourage more creative play time.
♥Charming...Realistic...Hand drawn artwork!!
♥Made to last...Laminated with heavy duty 10 mil laminate
♥Includes item prices making this a great tool to practice math skills in a fun creative way
♥Great center activity for school teachers as well or great for home school families!
♥♥What's Included♥♥
2 8.5x11 Menu's printed with Breakfast on one side and Diner/Lunch on the other
1 8.5x5.5 Laminated Menu order form. Printed blank on one side and printed with menu item pictures on the other side so younger children can circle the order.
1 Pad of real Restaurant Guest Checks 50 sheets per pad
1 8.5x11 Laminated Open/Closed Sign
1 12inch Black Round Plastic Serving Tray
1 White Waist Apron with 3 Pockets Personalized with the Diner Logo on Front
1 Dry Erase Marker
Packaged in a sturdy 12x12 box with clear lid so that your customers will be able to see exactly what they will be getting.
I encourage you to read through some of our reviews to see how our products resonate with our customers and how they keep coming back to order more and more.
♥ How to Order♥
1) Name your diner. Tell me your childs first name or use your last name and I will include that in your Diner name. For example "Double Dip Diner" will read "Jenna's Double Dip Diner" or "The Martin's Double Dip Diner"
2)With the deluxe menu set you get to pick 4 menu items that you can name and personalize for your family. For example Mamma's Pie of the Day, Jenna's Famous Pancakes, Nana's Waffles etc. Pick 4 menu items after looking at the sample menu picture and tell me how you would like to name those items.
3) Pick your color. Comes in Red/Blue or Pink/Blue
4)Make sure you include all of that into the notes section on your order.
5)Once your order is received you will be emailed a proof of your menu before printing begins.
All images and items are copyright of Sweet by Candy and Mimloft Creative Studios 2013