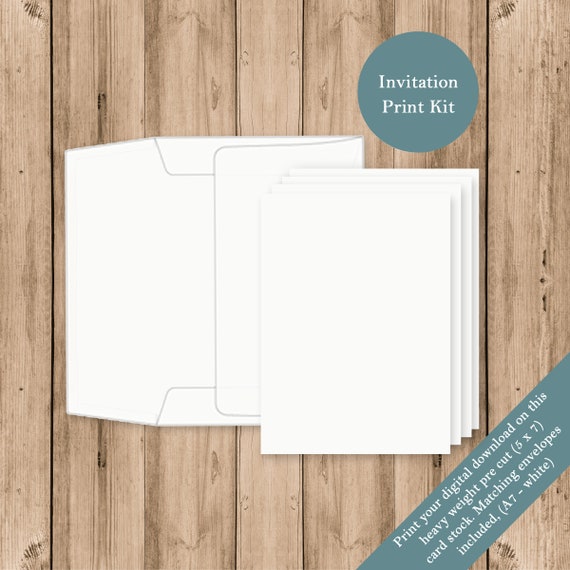 Printable DIY Kit | Do It Yourself Card with Envelope | Flat Invitation | 5x7 inches | White 80 lb. Cardstock
By Maya Grace Prints
Product Info
Printable DIY Kit | Do It Yourself Card with Envelope | Flat Invitation | 5x7 inches | White 80 lb. Cardstock
:::: What's Included ::::
DIY Blank Printable Invitation Kits are Flat 5 x 7-inch Cards made from a Bright White 80# lb. Premium Card Stock and travels with matching white FREE A7 Envelopes
:::: Cardstock Dimensions ::::
Cardstock Cut Size: 5 inches by 7 inches
Color: Bright White Accent Opaque Wove (98 Brightness)
Basis Weight: 80# lb. Cover Medium Grade Cardstock
Common Use: Small Invitation or Response Cards
:::: Envelope Dimensions ::::
Envelope Size: 5_1/4 inches by 7_1/4 inches
Envelope Color: Bright White Smooth Text
Basis Weight: 70# lb. Copy Text Paper
Flap Style: Square Flap, Pre-Gummed just add Moisture
::::: Ordering Quantities ::::::
Set of 25 / Pack
Set of 50 / Pack
Set of 75 / Pack
Set of 100 / Pack
Set of 150 / Pack
Set of 175 / Pack
Set of 200 / Pack
Set of 225 / Pack
Set of 250 / Pack
::::: Product Uses :::::
Our Cut Cardstock is great for printing DIY Wedding Invitations, Greeting Cards, Birth Announcements, Christenings, Bridal Showers, Backyard Barbeques, Birthday Cards,
Corporate Event Parties, School and Church Events, Hashtag Cards, Promotional Cards, Communion, Gift Cards, Thank You Notes and so much more...
::::: Shipping Time :::::
Orders are ship within 24 to 72 hours of ordering Monday - Friday - 8am to 5pm (Eastern Standard Time)