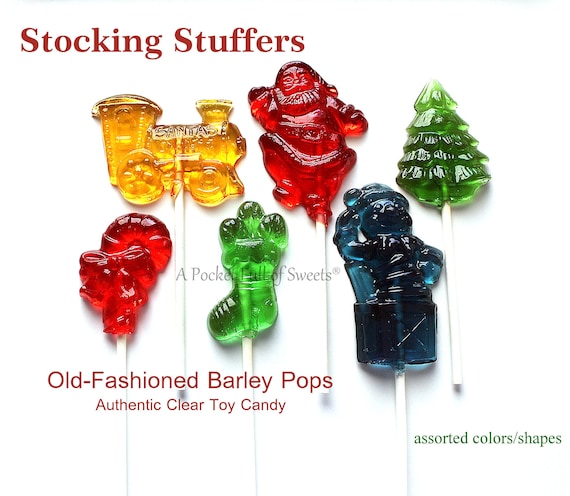 Clear Toy Candy, Barley Candy Lollipops, Barley Sugar Pops, Old Time Candy, Christmas Gift Ideas, Stocking Stuffer, Gifts For Coworkers, Men
By A Pocket Full of Sweets
Product Info
Our nostalgic Clear Toy Candy lollipops are back by popular demand. They make a unique Christmas gift or stocking stuffer for just about anyone on your list. Mom, dad, grandpa, grandma, grandchild, coworkers, neighbors, & friends. They also make an excellent gift ornament and really spruce up the gift when attached next to the bow. This is our BEST SELLER during the holidays for 9 years in a row! Keep scrolling to see what others have to say about our authentic barley sugar pops made from the actual barley grain.
ASSORTED COLORED packs:
• 6 pc pk = 1 of each design
• 12 pc pk = 2 of each design
• Unless a specific color is specified, colors may vary from photos. For example, your stocking may be red and the train may be blue, etc...
• Choose the number of pops from the drop-down box above the 'add to cart' button.
• Each pop is individually wrapped/sealed - see photo #2
• NO added flavors - just good old-fashioned barley candy of days gone by!
• NO high-fructose corn syrup
• NO preservatives
• Hard candy
The lollipops are flat on the back. (not 3D) The measurements are as follows:
Candy Cane: 2"
Santa's Train: 3"
Stocking: 2.5"
Santa Clause: 2.75"
Jack in the Box: 3.25"
Christmas tree: 2.25
I do NOT add ARTIFICAL BARLEY flavoring to my products. My products are MADE FROM THE ACTUAL ORGANIC BARLEY GRAIN just like in the olden days!
AUTHENTIC Barley Candy:
*has Barley as an ingredient
*has a distinctive glass-like clarity
*is harder than most candies
*lasts a long time
~~~~~~~~~~~~~~~~~~~~~~~~~~~~~~~~~~~~~~~~~~~~~~~~~~~~~~~~~
♥ Here's what some customers have to say about our old-fashioned barley pops!
• "Awesome seller, beautiful product. It's a tradition to give my 82 year old Mom Barley Pops for Christmas and these are by far, the best I've ever purchased for her. She will be thrilled."
• "A yearly Christmas present for my wife. And since It is for my wife, you know they are great! Happy wife..........Great pack and quick ship. Best that I have found over the past 30 years."
• "WOW! A taste from the past."
• "Taste just like old barley pops I remembered from years ago."
• "Beautiful and yummy. I can't even describe the look on my family's faces when they opened their stockings on Christmas morning and saw these in there. Pure JOY! Such a fond childhood memory."
• "These were wonderful, the exact flavor I remember from childhood and cute and a great size! Thank you so much for your careful packaging :)"
• "As a kid Walgreens (Walworth) used to sell suckers that I LOVED and I had been looking all over for them. On a whim, I looked on Etsy and found these. They taste EXACTLY like the ones Walgreens used to sell. They arrived in a timely manner and we're packaged well so that none broke. My only wish is that they were bigger so I could enjoy them longer!!!!!! Thank you for the delicious memories they brought back!!"