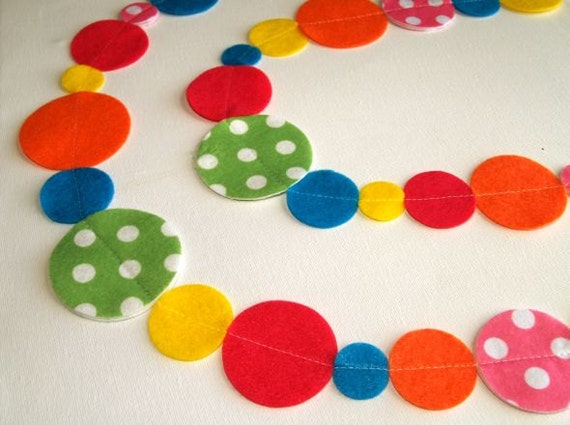 Polka Dot Big Top Inspired Felt Garland with Bakers Twine
By A Felt Affair
Product Info
Bright, polka dot fun! Just in time for spring! It's the latest garland, sure to add a super punch of color to your next special occasion!
I have loved this polka felt for a long time. I finally broke down and bought some, and I am so happy that I did! I've sewn together a festive garland, perfect for brightening up any space! Use it for:
-Easter Decor
-Big Top/Circus/Carnival Party Decor
-Birthday Party Decor
-Photography Prop
-Storefront Decoration
-Hang across your mantle
-Swoop up a staircase
This garland is made from eco-friendly cuts of felt in circle formation. There is a variety of hot pink, orange, yellow and turquoise-blue solid felt as well as pink polka dot and green polka dot felt. The polka dot felt will be sewn with two pieces back to back, so that there won't be a plain white side. Each circle measures an inch to about 2 1/2 inches in diameter. The garland is about 7 feet in length. There is an additional foot or so of baker's twine on each end to make hanging super easy!