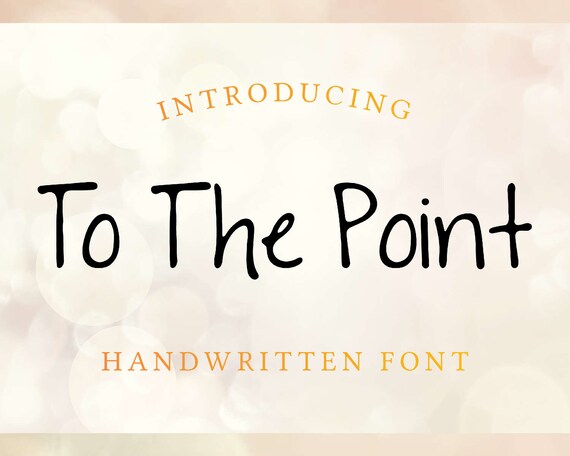 To The Point Font - Free for Personal and Commercial Use! TTF, True Type, Free Font, Handwritten Typography, Letter Handwriting, Lettering
By SavanasDesign
Product Info
To The Point Font - Free for Personal and Commercial Use! TTF, True Type, Free Font, Handwritten Typography, Letter Handwriting, Lettering
To The Point is now available for free!
You can download it at:
https://savanasdesign.com/to-the-point-font/
▶ Any purchases made on Etsy will be taken as donations.
To The Point was created by handwritten pen and was then finalized into vector format for font usage. It is a great natural font that is not too perfect or imperfect.
This handwritten font is perfect for invitations, wall prints, home decor, branding and much more. Our Open Font License allows crafters and designers plenty of freedom for creativity.
You may not sell this font or any part of the font as-is. You can not make embroidery or SVG / vector versions of the font itself. Credit is not required but is always appreciated!
WHAT YOU CAN DO:
• Use the font for wall prints
• Create SVG Files that you design yourself
• Create branding - Feel free to use this font for your Etsy shop branding!
• Use the font for unlimited clients for unlimited times
• Use for personal or commercial printed products
• Use for personal or commercial digital downloads
• Promote or advertise using this font
• Include the font in logo templates or other designs that you sell (must include the OFL license included)
• Create mock ups, listing images, banners, and social media images
• You can sell or share ANYTHING using the font, but please do not SELL the font itself.
YOU CAN NOT:
• Claim the font as your own. Copyright still remains with SavanasDesign.
• Sell the font as-is or modified
• Use the "Chisel Mark" Reserved font name as another font.
• Redistribute this font without permission
▶ FOLLOW
Shop: www.etsy.com/shop/savanasdesign
Facebook: www.facebook.com/SavanasDesign
Twitter: www.twitter.com/SavanasDesign
Instagram: www.instagram.com/savanasdesign
Pinterest: www.pinterest.com/savanasdesign
© Savana Price