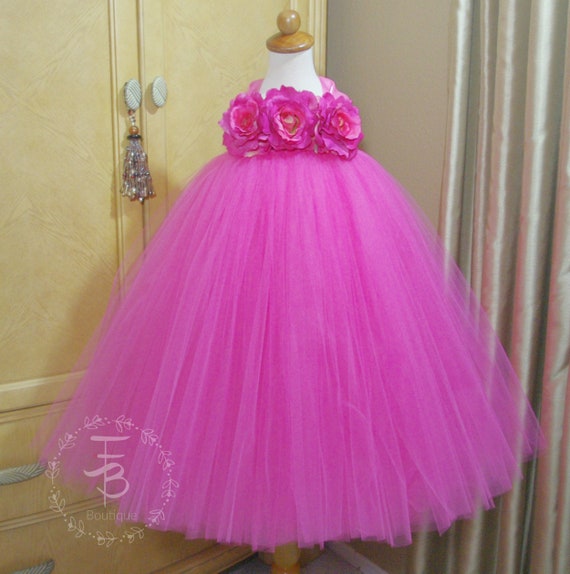 Pink Tutu Dress, Flower Girl, Jr. Bridesmaid, Birthday, Wedding, Hot Pink Tutu Dress, Shocking Pink Tutu Dress
By Floppy Bunny Boutique
Product Info
"Rose Garden Collection"...Our Ramona tutu dress in shocking pink features our signature empire bodice and is made with premium quality made in the USA tulle. DRESS IS FULLY LINED so there's no need for a slip. Tulle is hand tied directly onto a crochet band giving you a dress that is very full and princess like. Bodice is adorned with three quality roses. Wide satin ribbon is used for shoulder straps giving the illusion of cap sleeves and tie into an oversized bow. Shoulder straps are adjustable and provide a comfortable fit. Your princess will feel so grand in this dress. Perfect for Birthday Parties, Weddings, Photos, or any day your Princess chooses….
- Matching headband can be added here.... https://www.etsy.com/listing/241156688
Available in (TL) Tea Length / mid-calf , (FU) Full Length / touching the ankle, (FL) Floor Length / covering shoe.....
***Your child's height will determine where the length actually falls.
6 months....(C)17'' (TL)15'' (FU)18'' (FL)20'' ….$85.00
12 months..(C)18'' (TL)17'' (FU)20'' (FL)22'' ….$85.00
18 months..(C)19'' (TL)19'' (FU)22'' (FL)24'' ….$85.00
2 toddler....(C)20'' (TL)21'' (FU)24'' (FL)26'' ….$100.00
3 toddler....(C)21'' (TL)23'' (FU)26'' (FL)28'' .…$105.00
4 toddler....(C)22'' (TL)25'' (FU)28'' (FL)30'' .…$110.00
Size 5.........(C)23'' (TL)27'' (FU)30'' (FL)32'' .…$115.00
Size 6.........(C)24'' (TL)29'' (FU)32'' (FL)34'' .…$120.00
Size 6x.......(C)24.5'' (TL)31'' (FU)34'' (FL)36'' ..$125.00
Size 7.........(C)25'' (TL)33'' (FU)36'' (FL)38'' .…$130.00
Size 8.........(C)26'' (TL)35'' (FU)38'' (FL)40'' .…$135.00
Dress is empire style dress and bodice will measure as listed below for different sizes…
6 Months bodice…2''
12 months bodice…2''
18 months bodice…2 ''
2T bodice…3''
3 T bodice…3''
4 T bodice…3'' ***dress featured in this size
Size 5 bodice…4''
Size 6 bodice…4''
Size 6x bodice…4''
Size 7 bodice…4''
Size 8 bodice…4''
For custom fit we recommend you measure your princess.
1. Measure for chest(C)....around torso just under armpit.
2. Measure for length....from armpit down to length you want your tutu dress to fall.
*********** PLEASE NOTE ***********
Depending on availability petals and/or embellishments my require substitution. Due to handmade nature of items no two will be exactly alike. Your ordered item may/will be slightly different than item pictured. Actual color may be different due to digital transfer and/or computer monitor color setting.
Mannequin is for display purposes only and not meant to display an anatomically correct child.
Most of my creations contain small parts. Please do not leave children unattended while in use or near items.