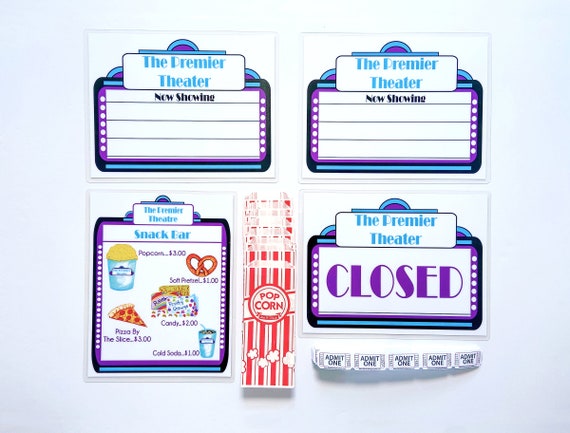 Play Movie Theater Set|Family Movie Night|Movie Night Play Set|Movie Night|Pretend Play|Gifts Gift Ideas
By Sweet by Candy
Product Info
Family Movie Night just got a lot cooler!!
This fun play movie theater set will help enhance your child's creative play and encourage them to be creative and have fun playing make believe!
♥A charming and nostalgic Movie Theater set to encourage more creative play time.
♥Charming...Realistic...Hand drawn artwork!!
♥Made to last...Laminated with heavy duty 10 mil laminate
♥Includes item prices making this a great tool to practice math skills in a fun creative way
♥Great center activity for school teachers!
♥♥What's Included♥♥
1 8.5x11 Double Sided Laminated Menu Sign. One side is printed with snack menu and the other is blank so your kiddos can fill in their own snacks.
2 8.5x11 Laminated marquee signs. See what's playing at the movies with this write and wipe sign.
50 admit one theater tickets
10 red and white stripped popcorn bags (3"x1.5"x7'")
♥Orders are processed and shipped USPS priority within 3-5 business days.♥
Pizza Shop....Retro Diner...Bakery also available
Please contact me with any questions.
All images and items are copyright of Sweet by Candy and Mimloft Creative Studios 2013
.