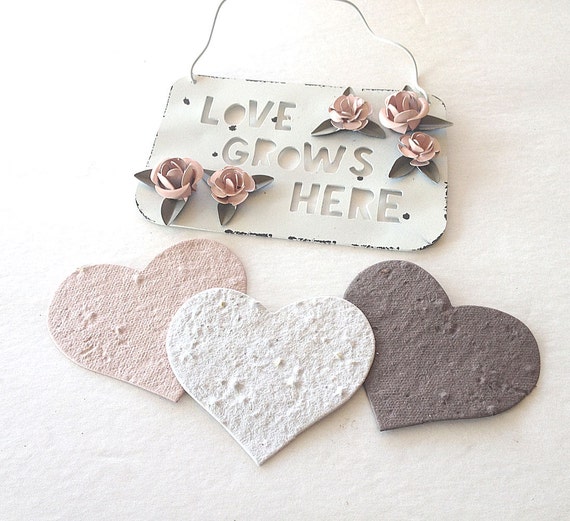 Large Plantable Seed Paper Hearts - diy wedding favors, place cards, save the date cards, creative invitations, thank you cards
By Nature Favors
Product Info
Seed Paper Hearts - Perfect for diy craft projects, including creative wedding invitations, place cards for parties, save the dates, thank you cards, and much more! Each plantable seed heart is filled with flower seeds. Toss them in the garden to grow a beautiful flower garden as a reminder of your celebration. Use your seed paper hearts as decorations by scattering them across the tables at the party. Place a sign nearby to encourage your guests to take them home to enjoy.
Set of 100 Plantable Hearts
Size: 2 5/8" X 2 7/8 "
Each plantable seed paper heart is 100% biodegradable and contains an assortment of annual and perennial seeds that can be grown throughout the US, Toss them in the garden and enjoy flowers in the spring. Start them year round indoors and move them to the garden once they are 2-3" tall.
Available in 25 gorgeous colors! Please include your first color choice from the drop down menu and include any additional color requests in the notes with your order.
burgundy, olive, chocolate, cranberry red, lavender, purple, powder blue, blue, royal blue, pink, orange, white, cream, green, sage, pale yellow, gold, yellow, and white
The following seeds are found inside the paper:
Zinnia,
Pinks, Sweet William
Poppy
Snapdragon
Catchfly
Daisy
Daisy
Black-Eyed Susan
Five Spot
Candytuft
Baby Blue Eyes
Wallflower
© 2017 Nature Favors, all rights reserved