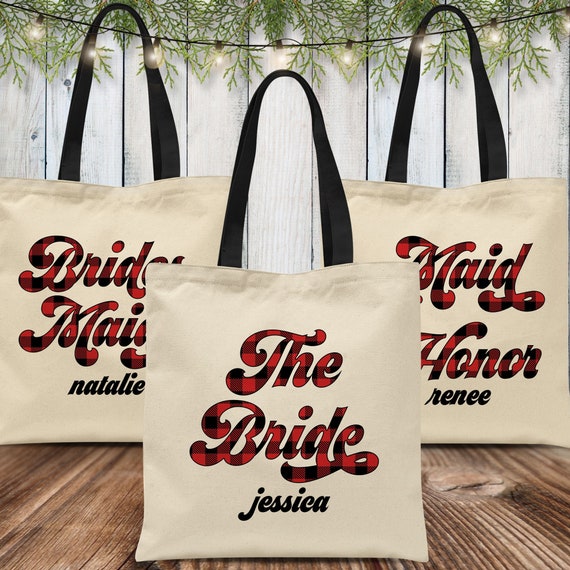 Plaid Custom Tote Bags - Flannel Fling Bachelorette Totes - Camping or Mountain Cabin Bridal Shower - Bridal Party Gift Bags - Buffalo Check
By Joy & Chaos
Product Info
These pretty retro plaid bags come with your choice of bridal party design on our best selling heavy canvas tote bag or our drawstring canvas backpacks.
𝗣𝗘𝗥𝗦𝗢𝗡𝗔𝗟𝗜𝗭𝗘 𝗬𝗢𝗨𝗥 𝝗𝗔𝗚𝗦
• Add 1 name to each bag (12 characters maximum)
* Character limit includes spaces & punctuation.
* Custom text will be printed in lettering style shown: lowercase script
* No special characters or symbols
Please do not exceed the character limit or your order may be delayed or rejected!
Thank you!
_____________________
𝗖𝗛𝗘𝗖𝗞 𝗧𝗛𝗘𝗦𝗘 𝗢𝗨𝗧
• Shop all bachelorette party:
https://www.etsy.com/shop/JoyandChaos?search_query=bachelorette
• Shop all plaid & 'flannel' theme gifts & favors:
https://www.etsy.com/shop/JoyandChaos?search_query=plaid
_____________________
𝗧𝝤𝗧𝗘 𝝗𝗔𝗚𝗦
• Natural heavy canvas tote with BLACK handles
• Size: approx. 15" tall x 15" wide
• 3" wide gusseted bottom
• Reinforced webbed handles: approx. 22.5" long with 10.5" drop
• 12.0 oz., 100% heavy cotton canvas
• Durable fabric and quality construction for a long-lasting bag
𝗗𝗥𝗔𝗪𝗦𝗧𝗥𝝞𝝢𝗚 𝝗𝗔𝗖𝗞𝗣𝗔𝗖𝗞𝗦
• 100% natural colored cotton canvas backpack
• SIZE: 14" wide x 17" tall
• Drawstring closure with matching cord straps
• Adjust shoulder strap length by tying knot in cord
Our digital printing process permanently dyes the fabric of your bag with environmentally-friendly water based inks (unlike a screen print or transfer, which lays on top of the fabric). The colors of the printed design will reflect the fabric absorbing the ink dye, which leaves a very high quality finish. This means the design will not crack or peel with washing, and the print will remain soft and flexible.
𝙋𝙇𝙀𝘼𝙎𝙀 𝙉𝙊𝙏𝙀: Due to variations in each device's display settings and calibration, printed colors may sometimes appear different or less bright than what you see on your screen.
____________________
𝗣𝗥𝗢𝗗𝗨𝗖𝗧𝗜𝗢𝗡 + 𝗦𝗛𝗜𝗣𝗣𝗜𝗡𝗚
• Current production time: this will ship 3-5 business days after placing your order
• All customized items are printed to order especially for you & are a final sale.
Please read through all details before purchasing. We are here to answer any questions you might have!
• Click here to view all shop policies and current shipping information: https://www.etsy.com/shop/JoyandChaos/#faq
𝗘𝗦𝗧𝗜𝗠𝗔𝗧𝗘𝗗 𝗗𝗘𝗟𝗜𝗩𝗘𝗥𝗬 𝗧𝗜𝗠𝗘
• All stated delivery date ranges are 𝗘𝗦𝗧𝝞𝗠𝗔𝗧𝗘𝗦 𝝤𝝢𝗟𝗬
• See all available shipping options for this item on the cart page.
• Although we cannot guarantee specific delivery dates, feel free to message us for other expedited shipping options.
★ 𝗣𝗟𝗘𝗔𝗦𝗘 𝝢𝝤𝗧𝗘: with all shipping carriers still experiencing unexpected delays, we are encouraging our customers to 𝗣𝗟𝗔𝗖𝗘 𝗢𝗥𝗗𝗘𝗥𝗦 𝗔𝗦 𝗘𝗔𝗥𝗟𝗬 𝗔𝗦 𝗬𝗢𝗨 𝗖𝗔𝗡 𝝞𝗙 𝗬𝝤𝗨 𝗛𝗔𝗩𝗘 𝗔 𝗗𝗘𝗔𝗗𝗟𝝞𝝢𝗘!
As stated in Etsy's buyer policies (https://www.etsy.com/legal/buyers/?ref=list), sellers cannot be held responsible or issue refunds for packages that arrive later than the estimated delivery date range.
____________________
𝗥𝗘𝗧𝗨𝗥𝗡𝗦 + 𝗘𝗫𝗖𝗛𝗔𝗡𝗚𝗘𝗦
• All personalized items are made especially for you and are a final sale.
• We are happy to accept returns on any unworn, unwashed and non-personalized items within 14 days.
• Shipping fee for exchanges: We will gladly ship your new item to you free of charge. You will only be responsible for covering the cost of mailing your item back to us.
• Feel free to review all of our policies here:
https://www.etsy.com/shop/JoyandChaos/#policies
___________________
𝗦𝗛𝝤𝗣 + 𝗦𝝤𝗖𝝞𝗔𝗟𝗦
🛍 • Click here to visit our entire Etsy shop: JoyandChaos.etsy.com
📷 • Follow us @joyandchaosshop
🤳🏽• Post & tag your photos #JoyandChaos
We hope you like what you see as much as we love creating it!
Thanks! ♥︎ Marlo & Lisa