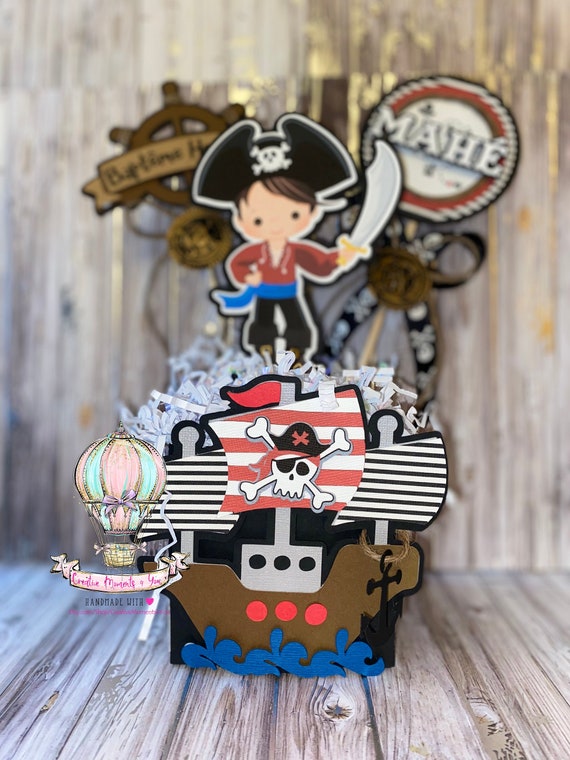 Pirate Ship Theme Table Centerpiece/ Pirate Party Centerpiece/ Pirate Birthday Party/ Argg Pirate Party/ Pirate Party Decoration
By CreativeMoments4You
Product Info
AHOY MATEYS!! Can also be done for a Girl Pirate theme...
Looking for that perfect pirate theme birthday table centerpiece for your little Matey's next birthday party? This awesome centerpiece will be perfect for your Birthday Party ! You can use this centerpiece to decorate around the birthday cake table, your candy buffet table or as a table centerpiece. All pirate characters are made with quality cardstock and in layers. It comes with a handmade box base and It features a pirate theme cardstock and on each side it has a skull and a double pirate sword , inside the box base is filled with white shreds (SHREDS CAN BE IN OTHER COLORS IF REQUESTED) it comes decorated with the Birthday Honoree name. Happy Birthday wheel sign, and a pirate age number.
***NOTE NOTE NOTE***
Can be done in any age and color if requested.. Just send me a message.
PLEASE MAKE SURE TO WRITE THE NAME AND AGE OF CHILD WHEN ORDERING..
***NOTE NOTE NOTE***
The box base measures 4x4x4
THE CENTERPIECE MEASURES ABOUT 10'H.
***NOTE NOTE NOTE***
I CAN DO ANY COLOR OR THEME YOU REQUEST, JUST SEND ME A MESSAGE AND I'LL BE HAPPY TO HELP YOU MAKE YOUR BIRTHDAY PERFECT..
***NOTE NOTE NOTE***
Don't see your party theme? No problem. I'll be making new centerpieces with different themes. Please contact me with your special request.
***NOTE NOTE NOTE***
***COPYRIGHT DISCLAIMER***
THIS IS NOT A LICENSED PRODUCT. THESE IMAGES ARE FOR PERSONAL USE ONLY. ALL LICENSED COPYRIGHT GRAPHICS AND TRADEMARKS YOU SEE IN THIS PRODUCT BELONG TO THEIR COPYRIGHT HOLDER AND I AM NOT AFFILIATED OR SPONSORED BY THEM. THEY ARE NOT TO BE RESOLD. THESE IMAGES WERE FOUND ON THE INTERNET AND/OR LICENSED PARTY SUPPLY ITEMS AND ARE INTENDED FOR PRIVATE USE ONLY. I DO NOT CLAIM OWNERSHIP OF GRAPHICS USED IN THE PERSONALIZED ITEMS.
** PLEASE NOTE YOU ARE NOT PAYING FOR ANY GRAPHIC BUT FOR MY TIME AND LABOR**
Thank you and Have a Great Day!