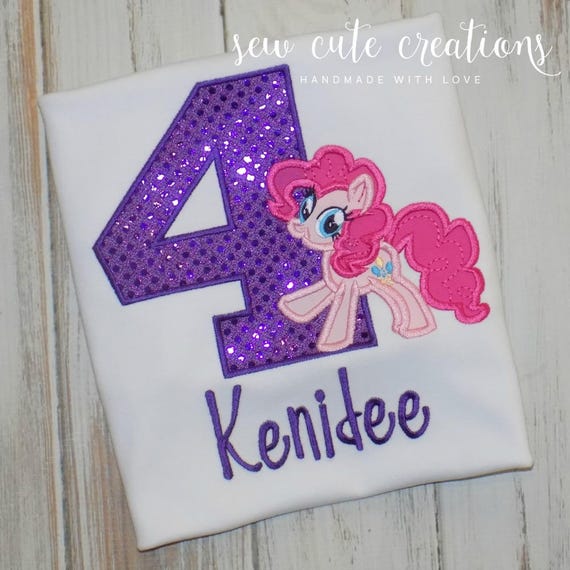 Pinkie Pie Birthday Shirt - Pinkie Pie birthday outfit - Pony birthday shirt - Pony birthday outfit - sew cute creations
By Sew Cute Creations
Product Info
This personalized Pinkie Pie birthday shirt is perfect for your next Pony birthday party. This Pinkie Pie birthday outfit features the birthday number of your choice along with this cute Pinkie embroidery design. All birthday numbers are available. All fabrics and colors can be changed to go with your party colors. This Pony birthday shirt will be custom made and embroidered with your child's name in the font and color of your choice.
Available fabrics: www.flickr.com/photos/sewcutecreationsdesigns/sets/72157626412392703/
PLEASE CHECK MEASUREMENTS FOR SIZING BEFORE ORDERING SOME STYLES DO RUN SMALL!!
Girls Short Sleeve shirts:
6M: underarm to underarm 9 inches, shoulder to hem 12.5 inches
12M: underarm to underarm 9.5 inches, shoulder to hem 13 inches
18M: underarm to underarm 10 inches, shoulder to hem 14 inches
24M: underarm to underarm 10.5 inches, shoulder to hem 14 inches
Size 3: underarm to underarm 10.5, shoulder to hem 14.5 inches
Size 4: underarm to underarm 11 inches, shoulder to hem 14.5 inches
Size 5/6: underarm to underarm 12.5 inches, shoulder to hem 15 inches
Size 6X: underarm to underarm 13.5 inches, shoulder to hem 16 inches
Small (7-8): underarm to underarm 13 inches, shoulder to hem 17 inches
Medium(9-10): underarm to underarm 14.5 inches, shoulder to hem 17.5 inches
Large(12-14): underarm to underarm 15 inches, shoulder to hem 19.5 inches
X-Large(16): underarm to underarm 16.5 inches, shoulder to hem: 20.5 inches
Boys Crew neck short sleeve shirts:
6M: underarm to underarm: 9.5 inches, shoulder to hem: 13 inches
12M: underarm to underarm 10 inches, shoulder to hem 13 inches
18M: underarm to underarm 11 inches, shoulder to hem 14 inches
24M: underarm to underarm 11 inches, shoulder to hem 14 inches
Size 2: underarm to underarm 12 inches, shoulder to hem: 15.5 inches
Size 4: underarm to underarm 13 inches, shoulder to hem: 19 inches
Size 6-8: underarm to underarm 14 inches, shoulder to hem 19.5 inches
Size 10-12: underarm seam to underarm seam: 15.5 inches, shoulder seam to hem: 22 inches
Size 14-16: underarm seam to underarm seam: 17 inches, shoulder seam to hem: 23 inches
Unisex long sleeve shirts:
6M: underarm to underarm 9.5 inches, shoulder to hem 13 inches
12M: underarm to underarm 10 inches, shoulder to hem 13 inches
18M: underarm to underarm 11 inches, shoulder to hem 13.5 inches
24M: underarm to underarm 11 inches, shoulder to hem 14 inches
Size 4: underarm seam to underarm seam: 13 inches, Shoulder seam to hem 17.5 inches
Size 6-8: underarm seam to underarm seam: 14 inches, shoulder seam to hem: 19.5 inches
Size 10-12: underarm seam to underarm seam: 15.5 inches, shoulder seam to hem: 22 inches
Size 14-16: underarm seam to underarm seam: 17 inches, shoulder seam to hem: 23 inches
If you would like to see the new designs that will be coming or other options that are available you can follow my blog at:
http://sewcutecreationsdesigns.blogspot.com/
or follow me on Facebook: https://www.facebook.com/etsysewcutecreations/
or Instagram: https://www.instagram.com/sew_cute_creations_/