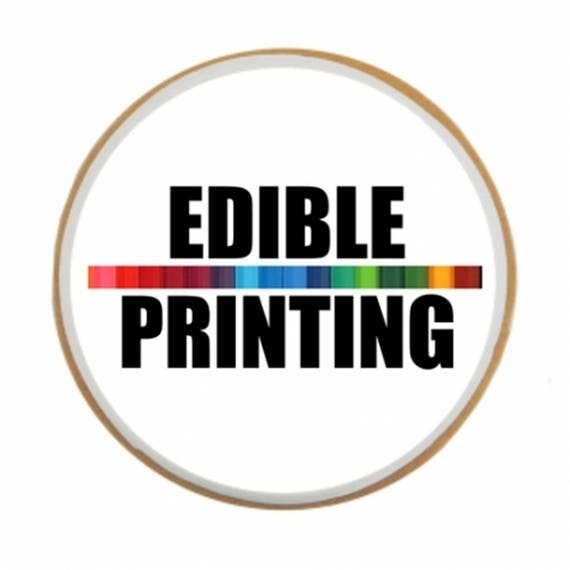 Product Info
We only use the world's best edible icing sheets! To Use: All you need to do is peel the image from the plastic backing and place directly onto your iced cake.
You can choose from two sizes:
8" Round Circle (to fit a cake 8" up to 12" round)
OR
7.5x9.5" Rectangular (to fit a cake 1/4 sheet or up to 1/2 sheet or Full sheet)
Please note, if your cake is larger than the two options given, there will be excess room on the top surface of the cake for piping additional frosting borders or frosting designs which is completely optional.
I will customize your order. You can send me your image and personalized message in the notes section when ordering. OR you can request an image that you want printed. We can also help you with searching for the perfect image to fit your special occasion. Edible ink colors may vary slightly from what you see on your screen. Please keep in mind that we cannot guarantee exact color matches. We can also do specific characters upon request.
These icing sheets have a shelf life of up to 24 months as long as storing is not compromised. They are also Kosher Certified and made in the USA. Icing sheets cannot be stored in extreme heat or cold conditions! ONLY Room temperature is needed! Please keep the image in the foil package until you are ready to use, as direct sunlight or air may adversely affect your printed image.
If the icing sheet becomes exposed to higher temperatures, it may seem to stick to the attached plastic backing when trying to remove sheet for placement. If this were to happen you should put it in the freezer for 10 second intervals until it easily removes. DO NOT keep in the freezer as it may get too hard, crack, and break while removing from plastic backing.
When placing your order, please contact me if your order requires explanation. Please indicate whether you want a name or a message. In addition, please indicate whether you want your image to be round or if you want it to be a full sheet.
Icing sheets are only for one time use and cannot be reused.
Instructions direct from actual packaging:
1. Store the edible image in it's original package at room temperature (60-75F). Avoid extreme humidity. Keep Flat.
2. After printing on the edible paper, allow colors to dry and gently peel the edible paper of its paper backing. Re-seal the bag after each use.
3. Place the printed edible paper on an iced cake. Gently press down evenly to eliminate air pockets.