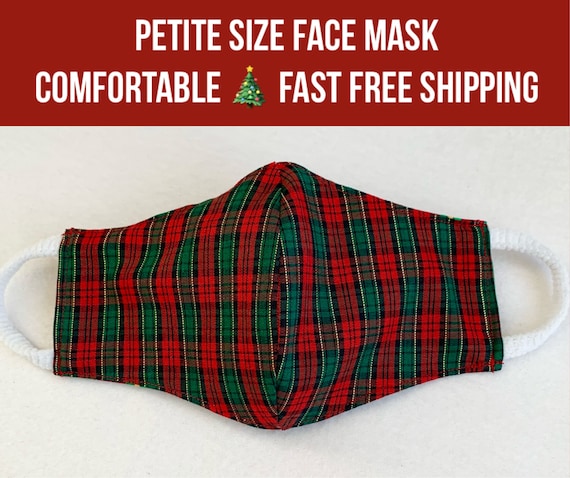 PETITE size Christmas plaid fabric face mask, 3 layers filter pocket, soft ear loops, washable cloth mask, ear loop sizes S M L
By GiftGarbBags
Product Info
**** PLEASE READ ALL These are beautiful Christmas red green and gold fabric face masks sized specifically for an adult PETITE smaller face. It is a 3 layer mask with a filter pocket with the option to add a filter (4th layer of protection).
These are made of a tight weave lighter weight cotton blend fabric. The lining and pocket will add thickness and you can add a filter for more protection.
Many of my other listings also come in this size, take a look. https://etsy.me/2RtcGRK
*mask shown on model is a different fabric but same style.
The masks are cotton fabrics with soft white ear loops (Softer and more comfortable than elastic)
*The ear loops contain LATEX*
The lining and filter pocket fabric will vary as supplies last but will match and be of the same quality.
This is NOT a medical or surgical mask. These masks are for public use to help you keep your hands off your face and to help preventing your germs from spreading if you cough or sneeze.
Handmade in the USA
Washable and Reusable
Machine washable, wash warm with mild detergent, no bleach, (for best results use a lingerie bag) make sure to remove any filter material before washing. Lay or hang to dry reshaping while damp.
Triple cotton layers with soft stretchy ear loops. (softer and more comfortable than regular elastic) *contain Latex*
Ships out in 1-2 business days, standard shipping is USPS First Class flat and will take 2 - 6 business days to arrive.
SIZES:

The mask is sized smaller than my normal masks for petite people with smaller faces, but the ear loops will vary in length based on these sizes:
To help determine size, measure from ear to ear across the front of the face starting at the back of one ear across under your nose on the upper lip and to the back of the other ear. Use a string and then measure on a flat ruler or use a sewing type tape measure.
Measure Ear to ear in inches
11 to 12 inches Small
12.5 to 13.5 Medium
14 to 14.5 Large
Mask portion will be the same size, but the ear loops will vary in length based on the above sizes
Masks are made of cotton fabric lined with 100% cotton or mostly cotton fabrics for a comfortable fit.
Masks are not medical masks and, if used alone, offer only a minimal physical barrier.
We make no medical claims with regard to their usage.
Masks do come with the option to insert filters.
If you have any questions, please email me!
ALL SALES FINAL due to the nature of the items for personal use they are not returnable for safety reasons.