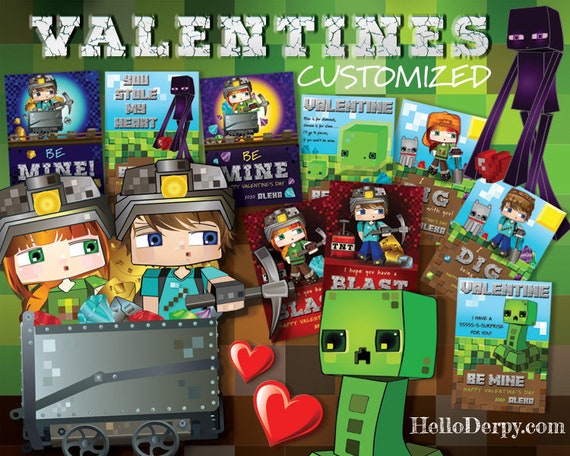 PERSONALIZED Mine Theme | Classroom Valentines for School | features HelloDerpy & HeyDerp (plus BONUS Minecraft inspired Valentines)
By HelloDerpy
Product Info
Mine themed CLASSROOM VALENTINES. Kids printable Valentine's Day cards, perfect for sharing with school friends.
Set of 6 HelloDerpy and HeyDerp mining themed Valentines PLUS 3 *bonus Minecraft inspired Valentines included in the download. Cards are sized at 3.5 inches x 2.5 inches (9 cards will print on an 8.5"x11" letter or A4 page). I will customize the signature line with your child's name. In the "Personalize" field at checkout, please type what you would like to appear in the signature line at the bottom of the card. I will send you a proof to review within 24-48 hours.
These cute Valentine's day cards are a perfect design choice for kids who game. They features HelloDerpy & HeyDerp (young online Minecraft gamers and YouTube personalities) busy at their favorite pastime - mining & unearthing gemstones!
This set includes HelloDerpy & HeyDerp in the minecart, blasting rocks with TNT and just digging in the dirt with their pet pooch.
• • • DIGITAL SHIPPING • • •
1. CUSTOMIZE: Once payment has been completed, I will begin creating your customized cards. If further information is required from you, I will contact you through the Etsy "Convo" portal. To speed the process, please provide the signature text your desire in the "Personalize" field at check out. Examples of signature text: "xoxo, Alexa" or "Your friend, Steven".
2. PROOF: Within 1-2 business days, I will email you a proof of your personalized design. At this point, you can either approve it or request changes. 2 minor revisions are included in your purchase.
3. PRINT: You may print however many copies you want. Feel free to take it to your favorite printer (Walmart, Kinkos, Costco, etc...), print the cards at home or send via e-mail. Please note that no physical product will be shipped to you, this listing is for a digital high resolution (.jpg) file which you print, preferably on 8.5 inch x 11 inch white card stock.
I'm here to help with anything you need along the way. Kindly note this is an original HelloDerpy pixel art design and is for personal one-time use only. This graphic is not authorized for resale or redistribution in any digital or printed formats.
♥ Get to know HelloDerpy & HeyDerp! We are two homeschooled children exploring the world of computer-assisted graphic design, java coding, technology and computer science. Our designs have been created with the help of our mentor & mum. Your kids can watch HelloDerpy and HeyDerp play Minecraft® on our YouTube channels at:
HelloDerpy: https://www.youtube.com/channel/UCnwzSlK5wlvcjfQfm6mi6PA
HeyDerp: https://www.youtube.com/channel/UC7dJs6nMCgY1LaKKu6PFutQ
Get in the game with HelloDerpy & HeyDerp on our Minecraft server MINERSRUN (minersrun.mc.gg | Server IP: 198.24.171.90:41954). Visit HelloDerpy.com for designer Minecraft skins, texture packs and mod reviews. Explore the world of modern technology at HeyDerp.com, where the latest in gaming hardware is analysed, product tested and reviewed.
Thanks for shopping with us, we hope your party is a BLAST!!!
• • • • • • • • • COPYRIGHT NOTICE • • • • • • • • •
Although me (HelloDerpy) and my brother (HeyDerp) are avid Minecraft gamers and YouTube personalities, we are in no way affiliated with Minecraft. This is not an official product of Minecraft and it is not approved, endorsed or associated by/with Mojang AB. I do not sell or claim any ownership of any official Minecraft product or Minecraft assets as they belong to their respective copyrights owners and have no relationship or association with me (HelloDerpy) of any kind. Items purchased from HelloDerpy.com are for personal use only and are not to be re-sold for any reason.
All items shown here featuring Minecraft characters (i.e.: Slime, Creeper & Enderman) are free and can be downloaded in high resolution, ready to print CMYK format, directly from HelloDerpy.com https://helloderpy.com/minecraft/helloderpys-minecraft-printables/ (no further action or payment necessary). If you are interested in purchasing the HelloDerpy & HeyDerp products, or need any assistance with these product, you need to contact me for product information or purchasing information, as I (HelloDerpy) digitally manufacture this item and sell it. HelloDerpy.com is not Mojang, is not associated with Mojang and is not endorsed by Mojang. Mojang does not assume any responsibility of any kind for this product or this sale.