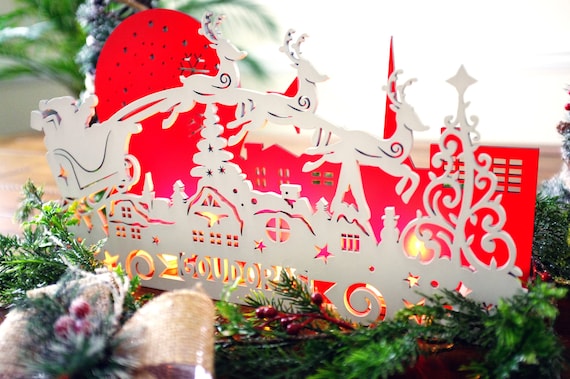 Personalized Christmas Santa Candle Box - Christmas Centerpiece - Christmas Decor - Personalized Wood Santa and Reindeer Decoration
By CANDLES & FAVORS, INC.
Product Info
This candle frame holder is a great way to bring in the holiday season. I can customize them with your name or I also have a generic one!
They make a really cool feature to any home for Christmas. Put it on your shelf, table, mantel or wherever you want, light the candles and enjoy!
Important information about our Santa Centerpiece:
* 1/4" Maple Plywood with minimal edge burns to create a beautiful product. This type of wood is stronger, more stable, and has a more desirable appearance.
Two size options:
1. Large size: 17 1/2 inches long, 10.0 inches high, and has a depth of 4.0 inches.
2. Small size: 11 inches long, 6.5 inches high, and has a depth of 3.5 inches
Important information on assembly:
* If you choose the painted white option, it will be painted on all sides.
* If you choose the 3 candle option, the scent will be a Christmas scented 1oz travel candle tins.
* It will be shipped flat, simply assembles with slots.
* There is no bottom piece. Only the front, back and two sides.
Proudly Made in Fort Mill, South Carolina