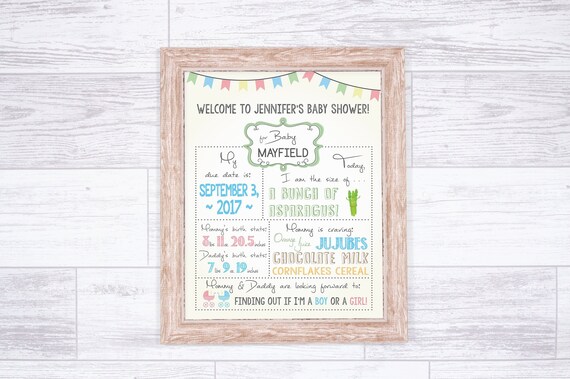 Baby Shower Sign, Printable Welcome Sign, Personalized Entrance Sign, Gender Neutral Baby Shower, Baby Stats, Baby Shower Decor, Shower Idea
By Stripes and Chevron
Product Info
This printable baby shower sign is an easy and adorable decoration for a gender neutral baby shower. This printable sign can be personalized with the mom-to-be's pregnancy stats, baby's stats, or any other information! Can be printed on cardstock or paper and framed, or can be printed on canvas - up to you. Makes for a great conversation piece if displayed at the entrance to the baby shower!
Several different sizing options are available; please select "custom size" if you have specific sizing requirements, and I will be happy to size the file to your needs!
Not quite what you're looking for? Check out my shop for more baby shower invitations, games, and more!
https://www.etsy.com/ca/shop/StripesAndChevron/search?search_query=baby+shower&order=date_desc&view_type=gallery&ref=shop_search
*You are ordering a digital print ONLY. You will receive a high quality file personalized with your details. You can then print the file as many times and in whichever way you choose! Please note that you will NOT receive a paper product (unfortunately, I don't offer printing at this time).*
▬▬▬▬▬▬▬▬▬▬▬▬▬▬▬▬▬▬▬▬▬▬▬▬▬▬▬▬▬▬▬▬▬▬▬
▧ HOW DOES IT WORK? ▧
▬▬▬▬▬▬▬▬▬▬▬▬▬▬▬▬▬▬▬▬▬▬▬▬▬▬▬▬▬▬▬▬▬▬▬
1. Choose your size.
2. In the "Add your personalization" box before you Add to Cart, include the following information:
▧ NAME OF MOM-TO-BE
▧ NAME OF BABY (either first name if chosen or "Baby <insert last name>")
▧ BABY'S DUE DATE
▧ BABY'S SIZE AS OF PREGNANCY WEEK OF SHOWER
▧ MOM'S BIRTH STATS
▧ DAD'S BIRTH STATS
▧ MOM'S PREGNANCY CRAVINGS
▧ WHAT MOM AND DAD ARE MOST LOOKING FORWARD TO
▧ ANY OTHER INFORMATION (feel free to replace any of the above!)
3. Once payment is received, within approximately 2 business days you will receive a proof via Etsy conversation. *Check my shop announcement for current turnaround times*
4. Please reply with any revisions or modifications needed.
5. Within approximately 1 business day I will send you a revised file. Revisions will be made until you are 100% satisfied!
6. Print your final or revised file!
▬▬▬▬▬▬▬▬▬▬▬▬▬▬▬▬▬▬▬▬▬▬▬▬▬▬▬▬▬▬▬▬▬▬▬
▧ HOW DO I PRINT MY FILE? ▧
▬▬▬▬▬▬▬▬▬▬▬▬▬▬▬▬▬▬▬▬▬▬▬▬▬▬▬▬▬▬▬▬▬▬▬
You have a few printing options. The great thing about digital printables is that you can print as many as you want, however you want!
Print from Home - Print onto white cardstock (at least 110lbs recommended). Remember if you print on cardstock other than white, the colours of the design may vary.
Commercial Printer – You can print the file using places like Staples, Walmart, Office Max, etc. Save your file to your computer and either order prints on their website or bring the file into your local copy shop on a USB flash drive.
Online Options – Sites like Vistaprint.com or Zazzle.com offer printing BUT some have custom sizes or special file requirements. Please let me know if you are using an online printer so I can make any necessary accommodations.
▬▬▬▬▬▬▬▬▬▬▬▬▬▬▬▬▬▬▬▬▬▬▬▬▬▬▬▬▬▬▬▬▬▬▬
▧ PLEASE NOTE ▧
▬▬▬▬▬▬▬▬▬▬▬▬▬▬▬▬▬▬▬▬▬▬▬▬▬▬▬▬▬▬▬▬▬▬▬
Please note the colour that you see on your monitor may not be the exact same as your printed product. All monitors are different and display colours different. I recommend printing your proof on your home printer first to make sure you are satisfied with the colours.
Items are strictly for personal (non-commercial) use only. This material cannot be reproduced, forwarded, shared, or otherwise distributed.
Stripes & Chevron wants to ensure that you are 100% satisfied with your purchase and we will do our best to correct any issues. However, due to the nature of our products absolutely no refunds or exchanges will be given.
▧▧▧▧▧▧▧▧▧▧▧▧▧▧▧▧▧▧▧▧▧▧▧▧▧▧▧▧▧▧▧▧▧▧▧▧▧▧▧▧▧▧▧
*´¨)
¸.•´¸.•*´¨) ¸.•*¨)
(¸.•´ (¸.•` ¤ Check out my shop at https://www.etsy.com/ca/shop/StripesAndChevron
▧▧▧▧▧▧▧▧▧▧▧▧▧▧▧▧▧▧▧▧▧▧▧▧▧▧▧▧▧▧▧▧▧▧▧▧▧▧▧▧▧▧▧ Check out my sister shop at www.etsy.com/shop/LeonaPrintables