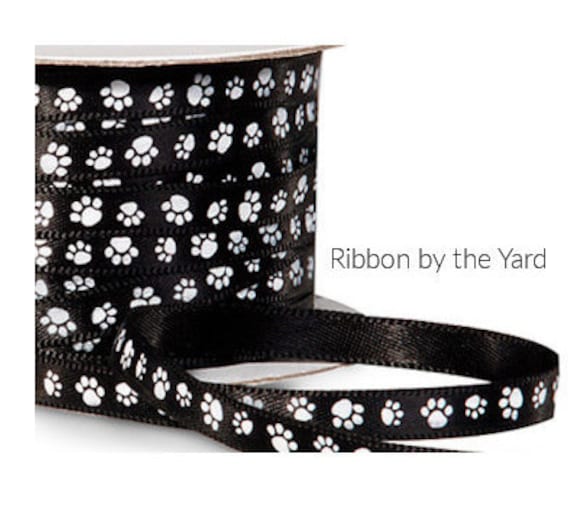 Paw Print Ribbon Black and White Dog Ribbon Cat Ribbon Pet Party Gift Paw Print Ribbon by the Yard
By Party Surprise, Etsy
Product Info
Paw Print Ribbon by the Yard
Fun paw print ribbon, white on black. Measures 1/4" Wide.
Satin, print on one side, solid black on the other.
Perfect for gift wrap, decor, and more at your pet party!
For more paw print items, including this ribbon by the spool, some shown above:
www.etsy.com/shop/PartySurprise?ref=shop_sugg&search_query=paw+print
HOW TO ORDER:
Go to the drop downs in the order box.
Select the number of yards you would like, add to your cart.
Repeat to add additional items.
************************************
Don't forget your balloons, balloon arch/garland kits, photo prop sets, fancy straws, tableware sets, mini popcorn boxes, Euro gift bags, gift/favor/treat bags, tissue tassel garlands & balloon tails, custom wedding confetti wands, party tableware, disposable cutlery, cake toppers, and cupcake toppers & wrappers - I have what you want!
Balloon color and size charts here:
www.etsy.com/shop/PartySurprise?ref=hdr_shop_menu&search_query=color+chart
Confetti Balloons & Table Confetti:
www.etsy.com/shop/PartySurprise?ref=shop_sugg§ion_id=25395318
Hot Air Balloons:
www.etsy.com/shop/PartySurprise?ref=shop_sugg&search_query=hot+air+balloon
Balloon arches/garlands:
www.etsy.com/shop/PartySurprise?ref=shop_sugg&search_query=garland
Photo Prop Sets:
www.etsy.com/shop/PartySurprise?ref=shop_sugg§ion_id=22959761
Disposable Cutlery:
www.etsy.com/shop/PartySurprise?ref=shop_sugg&search_query=cutlery
Fancy Straws: www.etsy.com/shop/PartySurprise?ref=hdr_shop_menu§ion_id=14449328
Party Tableware:
www.etsy.com/shop/PartySurprise?ref=shop_sugg§ion_id=15478643
Mini Popcorn Boxes: www.etsy.com/shop/PartySurprise?ref=hdr_shop_menu§ion_id=15478643
Tassel Garlands: www.etsy.com/shop/PartySurprise/items?ref=pagination§ion_id=19770755
Custom Number Cards:
www.etsy.com/shop/PartySurprise/items?ref=pagination§ion_id=19936436
Cupcake Wrappers: www.etsy.com/shop/PartySurprise?ref=hdr_shop_menu&search_query=cupcake+wrappers
Cupcake Toppers: www.etsy.com/shop/PartySurprise?ref=hdr_shop_menu&search_query=cupcake+topper
Favor and Treat Bags: www.etsy.com/shop/PartySurprise?ref=hdr_shop_menu§ion_id=14448891