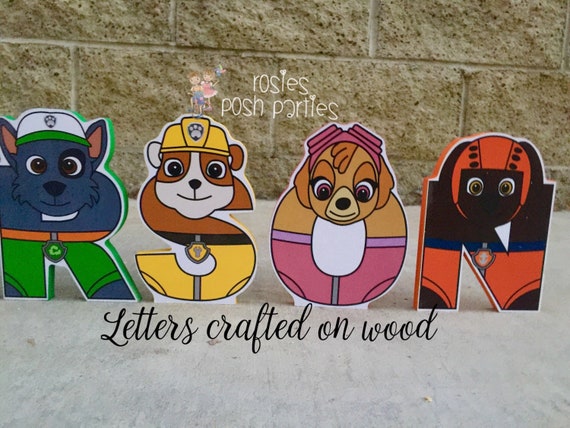 Paw Patrol Letters wood letters with characters for birthday, work desk, play room, house or room decor birthday gift
By Rosie's Posh Parties
Product Info
COVID-19 ANNOUNCEMENT
My shop is open for business as long as USPS/UPS/FEDEX are delivering to your homes! Processing times vary! Message me with any questions you may have, we are here to help! Thanks for your continued support! May we all be safe!
~~~~~~~~~~~~~~~~~~~~~~~~~~~~~~~~~~
Paw Patrol Letters Wall Art
***EVEREST and TRACKER NOW AVAILABLE***
***EVEREST and TRACKER NOW AVAILABLE***
***EVEREST and TRACKER NOW AVAILABLE***
***EVEREST and TRACKER NOW AVAILABLE***
These are perfect for your events main table! Next to the cake, and to use for your next photo shoot!
Possibilities are ENDLESS with these letters! They are great to decorate your candy buffet or food court table!
PREVIOUS CUSTOMERS FRAME THESE IN SHADOW BOXES. THEY LOOK AMAZING!
***MADE FROM WOOD***MADE FROM WOOD***MADE FROM WOOD
***MADE FROM WOOD***MADE FROM WOOD***MADE FROM WOOD
***MADE FROM WOOD***MADE FROM WOOD***MADE FROM WOOD
CENTERPIECES SOLD HERE...
https://www.etsy.com/listing/225108924/paw-patrol-centerpieces-for-birthday?ref=shop_home_active_1&ga_search_query=paw
These letters are made from wood, like all my other long lasting pieces. Not with the material often used at craft stores (board mache). Letters are made with attention to detail. Look great and make a statement where ever you place them.
PLEASE NOTE:
Some rounded letters at the bottom will not stand on their own and will need to lean on something, or add a drop of hot glue to help stay in place!
If purchased for an event, I guarantee you will not throw these away. They are made with great attention to detail. Your quests will be in awe!
Letters are approximately 6-6.5" depending on the letter!
Here is an example with the name CARSON of how to place your order at the time of checkout!
CARSON has 6 letters, so you would add 6 to your cart.
Once you are checking out please indicate what character you want for EACH letter like this...
C (Chase)
A (Marshall)
R (Rocky)
S (Rubble)
O (Skye)
N (Zuma)
Of course the characters don't have to be in the same order or a variety. If you would like only one character that's ok also. You are FREE to choose as you please with these letters!
If you don't mind the order of the characters, or if no instructions are given, I will choose the characters. I will always use one of each, and will not duplicate unless I have to once all characters are used at least once.