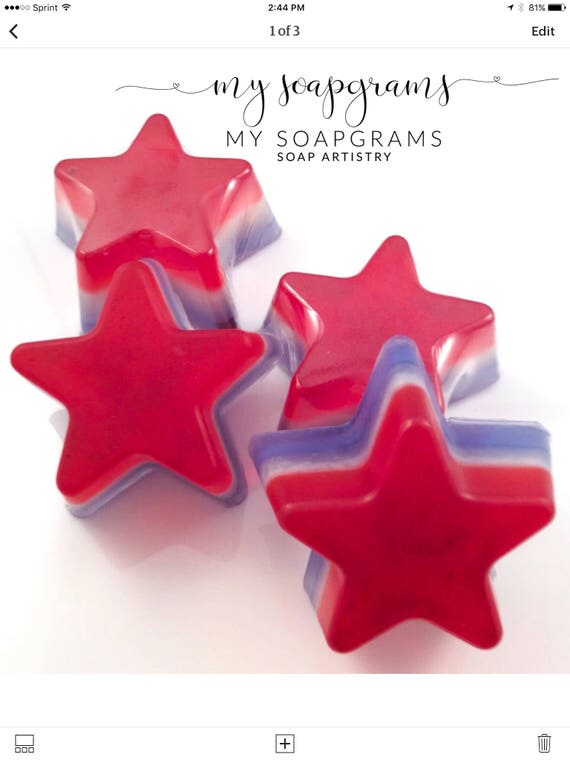 Product Info
Patriotic Star Soap / Star Soap
Add colorful Soap decor to your patriotic party! Patriotic Red, White & Blue Soap come in bright red, white, and blue — great for the kitchen or guest bath! These Patrotic Soaps are great for any event celebrating the US of A!
Color: Pictures show a variety of colors!; you can choose other colors~
Scent: Scented with the scent of Herbal Essence - A clean and fun feminine scent. A ripe red apple type with bursting notes of green apple, lily, and rose!
Size: 2" x 1.25"
Weight: 2.5 oz. ea.
Packaging: Cellophane bag
Quantity: Two soaps
Ingredients:
Premium Glycerin soap base (vegetable)
Coconut Oil
Palm Oil
Purified water
Sodium hydroxide (saponifying)
Sorbitol(moisturizer)
Sorbitan oleate (sweetening agent)
Natural Fragrance oils
Contact us for a custom order!
Needing more than what is listed...contact us and we will add more!
Caring for your Soap:
Your soap will last much longer if you always use a soap dish that drains well and keep your soap dry between uses.
This listing is for (2) glycerin Star soaps...weighing approximately 4.46 ounces.
Great for
wedding decorations, wedding party favors, cheap wedding favors, personalized wedding favors, personalized wedding soap favor, party favors, wedding party favors, party favors ideas, favors for wedding guests, wedding shower favors, bridal shower favors, affordable wedding favors, rose wedding favor, flower wedding favor, baby girl shower favors, girl baby shower decorations, cheap baby shower favors, baby boy shower favors, baby boy shower decoration, baby shower party favors, unique baby gifts, unique baby shower favors, baby shower decorations, baby shower gift, baby shower themes, personalized baby shower favors, affordable baby shower favors, rose baby shower favor, flower baby shower favor, kids birthday party favors, first birthday party favors, personalized gifts, birthday party decorations, unique party favors, boys birthday party, birthday party themes, girls birthday party, cheap party favors, baby birthday party, rose birthday favor, sweet 16 favor, flower birthday favor