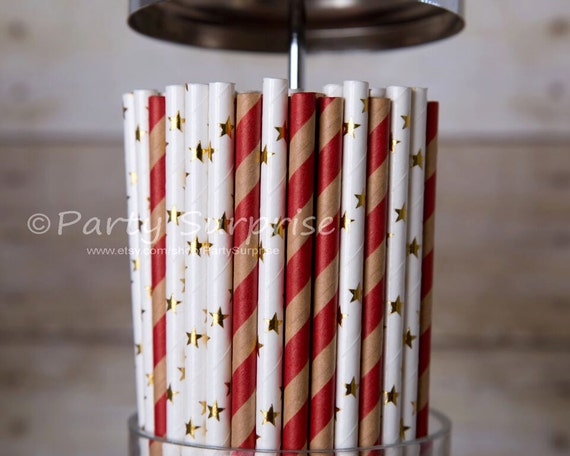 Red Kraft Straws Gold Foil Straws Rustic Wedding Christmas Party Birthday Holiday Valentines Day Shower Red Gold and Kraft Straws
By Party Surprise, Etsy
Product Info
Not Your Mother's Straws!
Beautiful straw mix, perfect for the very special occasions - Christmas, New Years, birthdays and more!
Select your patterns/colors when checking out.
* measures just under 8" tall
* waterlogged resistant
* strong
* beautiful!
This set features:
* Red & Kraft stripes
* Small gold foil stars
These paper straws are designed with durability in mind. They will continue to look great in sodas, sparkling water, juices and milkshakes, to give you the retro feel for which you have been seeking. Feeling creative? Create delicious cake pops and lollipops with these beautiful straws, which will not get soft for nearly 24 hours!
HOW TO ORDER:
* Select the number of straws from the Drop Down in the Order box.
* Select your patterns/colors from the other Drop Down in the Order box.
* Repeat to order additional items.
For more Christmas items:
www.etsy.com/shop/PartySurprise?ref=shop_sugg&search_query=christmas
********************************
Don't forget your balloons, balloon arch/garland kits, photo prop sets, fancy straws, tableware sets, mini popcorn boxes, Euro gift bags, gift/favor/treat bags, tissue tassel garlands & balloon tails, custom wedding confetti wands, party tableware, disposable cutlery, cake toppers, and cupcake toppers & wrappers - I have what you want!
Balloon color and size charts here:
www.etsy.com/shop/PartySurprise?ref=hdr_shop_menu&search_query=color+chart
Confetti Balloons & Table Confetti:
www.etsy.com/shop/PartySurprise?ref=shop_sugg§ion_id=25395318
Hot Air Balloons:
www.etsy.com/shop/PartySurprise?ref=shop_sugg&search_query=hot+air+balloon
Balloon arches/garlands:
www.etsy.com/shop/PartySurprise?ref=shop_sugg&search_query=garland
Photo Prop Sets:
www.etsy.com/shop/PartySurprise?ref=shop_sugg§ion_id=22959761
Disposable Cutlery:
www.etsy.com/shop/PartySurprise?ref=shop_sugg&search_query=cutlery
Fancy Straws: www.etsy.com/shop/PartySurprise?ref=hdr_shop_menu§ion_id=14449328
Party Tableware:
www.etsy.com/shop/PartySurprise?ref=shop_sugg§ion_id=15478643
Mini Popcorn Boxes: www.etsy.com/shop/PartySurprise?ref=hdr_shop_menu§ion_id=15478643
Tassel Garlands: www.etsy.com/shop/PartySurprise/items?ref=pagination§ion_id=19770755
Custom Number Cards:
www.etsy.com/shop/PartySurprise/items?ref=pagination§ion_id=19936436
Cupcake Wrappers: www.etsy.com/shop/PartySurprise?ref=hdr_shop_menu&search_query=cupcake+wrappers
Cupcake Toppers: www.etsy.com/shop/PartySurprise?ref=hdr_shop_menu&search_query=cupcake+topper