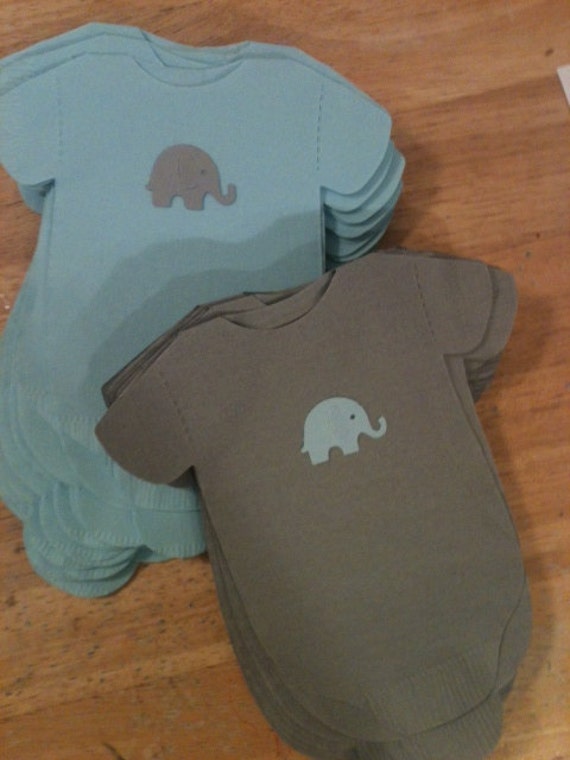 Any color Baby shower shirt or bib shaped NAPKINS. Each with adorable baby elephant. Pack of 30.
By wrapsidazy
Product Info
These baby shirt-shaped and bib-shaped napkins are absolutely adorable and sure to be a hit at your baby shower! Each napkin is cut in the shape of a baby one-piece shirt or a baby bib and adorned with a little elephant. These look great on a dessert table or placed on a place setting.

Tell me the color you would like for your elephants and your napkins in the NOTES section when you check out. =) Last pic shows napkin colors. Choose 1 color or more!
As for the elephants, I can do ANY color! Just let me know when you check out.
For example, Light Pink napkins with grey elephant on 1/2 my order and Grey napkins with light pink elephants on 1/2 my order. Another example: All navy napkins with lime green elephants.
Use as napkins, of course, AND hang a few over a ribbon for an instant banner, as you can see in the 3rd picture. =)
Each "shirt" napkin is 6" long and 5" across at the widest point, is triple ply and opens up to twice this size. (Think of a beverage or dessert table sized napkin.) Each bib shaped napkin is 5.75" long and 5" across and opens up to twice this size. (More of a luncheon sized napkin.)
Actual emails from satisfied customers:
"The napkins couldn't have been more precious! I hung [some] along the edge of the table over ribbon and I it was the mom-to-be's favorite thing!"
"I couldn't even try to describe how cute these are,,, soooo pleased. Tk u:) "
"Too stinkin' cute!"
Non-smoker in a non-smoking home and studio.
My designs are copyrighted. Please do not copy; copying is mean.