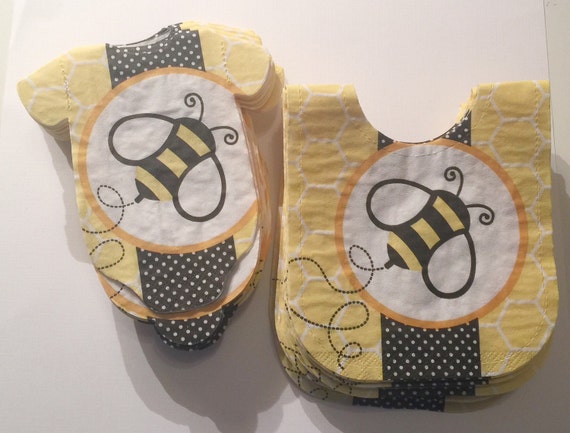 Any quantity baby shower 'shirt' or 'bib' paper napkins with big yellow and black bumble bee
By wrapsidazy
Product Info
These baby shower napkins are absolutely adorable and sure to be a hit at your baby shower! Each one is adorned with cute bumble bee and is in the shape of a baby's one-piece shirt. Colors are soft and cute for either boy or girl.
Use as napkins of course, AND hang a few over a ribbon for an instant banner! See last photo to get an idea of what my napkins look like as a banner.
Each napkin is about 6" long and 5" across, is double ply and opens up to twice this size, as in one of the pictures in the listing. When folded, they are in between the size of a luncheon napkin and a beverage napkin. Perfect size to put on a placesetting or lay out on a dessert table.
Each one is very slightly different depending on the cut of the napkin.
*See my other listings for actual onesies for baby to wear. =)
Non-smoker in a non-smoking home.
Priority Mail.
Actual emails from satisfied customers:
"The napkins couldn't have been more precious! I hung [some] along the edge of the table over ribbon and I it was the mom-to-be's favorite thing!"
"I couldn't even try to describe how cute these are,,, soooo pleased. Tk u:) "