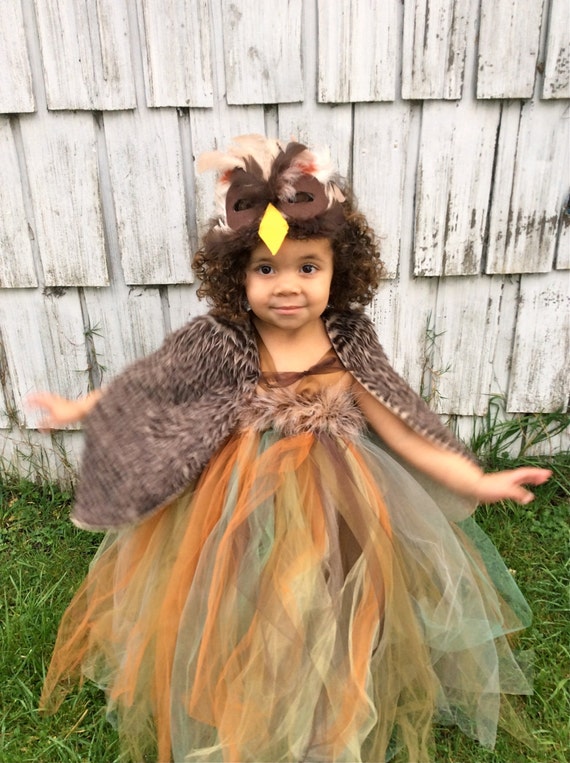 OWL Costume Girls Halloween tutu halter dress, mask, shawl for Toddler, Child kids costume
By BooBahBlue
Product Info
Sweet little owl tutu halter dress comes with winged shawl and feathered mask
Tutu dress is made of various colored tule and sheer ribbon with a feather boa trim along the top and wide satin brown halter straps that can be adjusted easily.
Comes with a feathered owl mask made from soft felt, not plastic, can be worn on the head or over the eyes.
The shawl sits on shoulders is made of soft faux fur with a felt lining, and offers a little warmth to the arms. Ties in front with a sheer ribbon.
Dress is easy to slip into from the top with an elastic chest band that makes it easy to stretch and fit over leggings or a t-shirt in cold weather.
All items are made by me. The tule is made in the USA.
Size chart below. The length is measured from the underarm to the floor.
**Ships priority mail in the US with an estimated delivery time of 2-3 days. International estimated 6-10 days.
Express Shipping Option available at checkout. 1-3 days Guaranteed in the US and 3-5 days estimate for International (this excludes possible customs processing times)
Express shipping is Guaranteed 3-5 days for these countries only: Belgium Switzerland, Germany, Denmark, Spain, Finland, France, Ireland, Italy, Luxembourg, Netherlands, Norway, Portugal, Sweden, Slovenia, Slovakia (excludes customs processing times)
To visit my shops main page go to www.etsy.com/shop/boobahblue
sizes Chest Length
6 mo 19" 19"
1 yr 20" 21"
18m 20" 22"
24m 20" 24"
2 yr 21" 25"
3 yr 22" 27"
4 yr 23" 29"
5yr 24" 30"
6yr 25" 31"
7yr 25" 33"
8yr 26" 35"
*****International Express Shipping Price Vary Greatly. I have to set the price to the highest cost. I will therefore REFUND these countries the shipping overages for single costumes shipping Flat Rate Express International:
AUSTRALIA $10
CANADA $12
CHINA $5
FRANCE $6
GERMANY $7
GREAT BRITAIN AND NORTH IRELAND $5
HONG KONG $11
MEXICO $14
NETHRLANDS $7
NEW ZELAND $10
SOUTH AMERICA (EXCLUDING BRAZIL) $10
***** REFUNDS for 2 costumes (under 2 lbs/.9 Kilos) shipping together, Express International:
CANADA $17
MEXICO AND SOUTH AMERICA $5
Customers are responsible for any import taxes that are charged on top of shipping costs. Taxes vary in each country, please check with your customs office to find out what those costs are before ordering. Thank you.