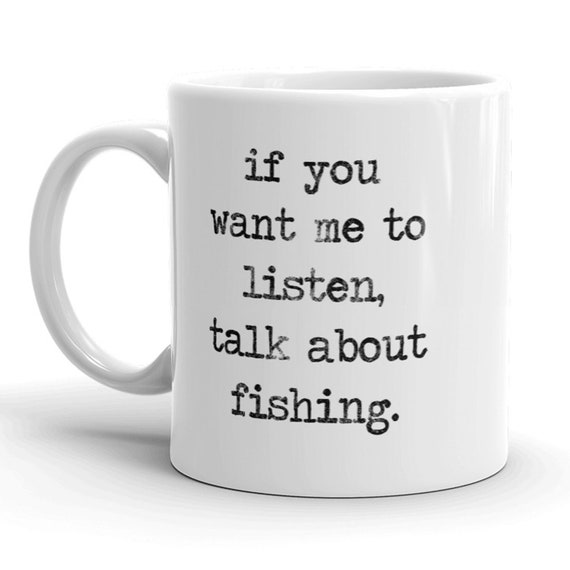 Offensive Fishing Mug,Humorous Fishing Mugs,Rude Fishing Coffee Cup,If You Want Me To Listen, Talk Fishing, Fathers Day Gifts, Fishing Gifts
By CrazyDog T-shirts
Product Info
HERES THE SCOOP ON OUR MUGS:
-Exclusive Crazy Dog branded ceramic mugs. We searched far and wide looking for the best of the best and we found it.
-Printed by hand with care using state of the art printers and application.
-Our mugs are 11 oz. for a perfect cup of coffee and a little cream and sugar if that's your thing.
-We use high-quality, heat-retaining ceramic that will keep your coffee, tea, or hot coca warm while you start your morning!
HOW TO LOVE YOUR MUG:
-Hand wash with care.
-Need to reheat? No problem - our mugs are microwave safe!
TRUST THE PROCESS :
-Allow 1 business days for us to hand print your mug and double check that it's perfect.
-Then allow 3-5 business days for shipping. (It usually takes 2-3 days but ya know... Post Office.)
-We ship internationally too. That can take up to 3 weeks depending on where you call home.
MAKE IT YOUR OWN:
-Want to customize a mug? Yeah, you do!
▄▄▄▄▄▄▄▄▄▄▄▄▄▄▄▄▄▄▄▄▄▄▄▄▄▄▄▄▄▄▄▄▄▄▄▄▄▄▄▄▄▄▄▄▄▄▄▄▄
SHIPPING INFORMATION
All orders placed on our website will ship out next business day regardless of the shipping option chosen. Orders placed after 9am on Friday will ship out the following Monday. For all package delivery times, a 'business day' is considered any day Monday - Friday and does not include public holidays and weekends. Please visit USPS.com for a full list of Federal Holidays when mail will not be delivered.
Crazy Dog T shirts can fulfill Domestic, APO, and International orders. Depending on your specific location and Shipping selections, our estimated shipping times are listed below. For more information on APO or FPO shipping, please click here. Please note that all items in your order must be in stock before your order ships. If the items are not in stock, order time can exceed stated time.
Items shipping to areas outside the US usually take between 18-20 business days to arrive.
▄▄▄▄▄▄▄▄▄▄▄▄▄▄▄▄▄▄▄▄▄▄▄▄▄▄▄▄▄▄▄▄▄▄▄▄▄▄▄▄▄▄▄▄▄▄▄▄▄
We've got you covered (literally!) with your favorite funny shirts for Men, Women, and Kids from the 80's, 90's and more! Check out some of our other cool shirts printed on our super soft apparel.
You'll love the fit and feel.
Follow us on Instagram @CrazyDogTshirts for new releases and sweet deals.
High five for shopping small with us!
--Bill & Brie