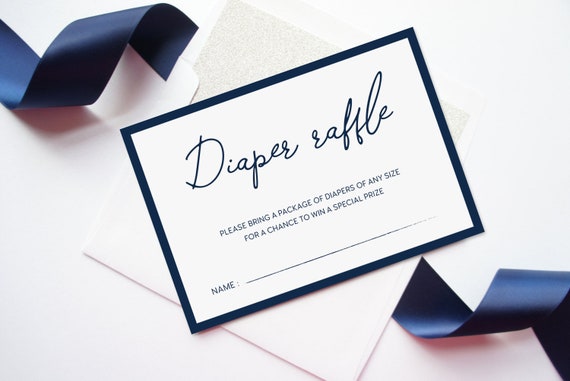 Navy Modern Baby Shower Diaper Raffle Template Instant Download Printable, Gender Neutral Baby Shower Invitation, Coed Baby Shower : IDB012Y
By InLove Digital Design
Product Info
*** Chic Baby Shower Diaper Raffle Template Instant Download (SKU = IDB012Y) ***
♥ This is an Digital download listing (READY to PRINT). Finished PDF file(s) will available to download once payment is confirmed. Contents CANNOT edit and change anymore ♥
♥ If you want to change the contents, Service fee have to be apply, Please contact us for any service & support :)
♥ - ALL BABY SHOWER ITEMS - Please visit the link : https://etsy.me/2KlKwTs - ♥
♥ - MATCHING ITEMS IN DESIGN - Please visit here : https://etsy.me/2JcbYpD - ♥
Do you want to save more with Invitation set ?? Find out here : -
---------- P R O D U C T S ----------
● Fixed Baby Shower Diaper Raffle Printable Template - 5.0" x 3.5"
---> Individual Raffle for 5" x 3.5"
---> Suitable for "A1 / 4-Bar card envelope" (3.625" x 5.125")
---> All texts and graphics CANNOT edit / change
---> PDF & JPEG files included
● Fixed Baby Shower Diaper Raffle Printable Template Layout
---> 4 cards per a page of US Letter
---> Suitable for "A1 / 4-Bar card envelope" (3.625" x 5.125")
---> All texts and graphics CANNOT edit / change
---> PDF & JPEG files included
● Modern Navy Back Pattern - 5.0" x 3.5"
---> Individual pattern for 5" x 3.5"
---> PDF & JPEG files included
● Modern Navy Back Pattern Layout
---> Full sheet of US Letter
---> Covering 2 cards of 5" x 3.5"
---> PDF & JPEG files included
● Printing tips with Home printing instruction
NOTE : If you want to change any wordings on cards, It's our pleasure to do more work on it. Please add this listing, https://etsy.me/2DZknsn , with exact quantities to your cart and left your note to us about your requirement in "Note to seller".
---------- D E T A I L S ----------
● "Baby Shower Diaper Raffle Printable Template" as in 1 ZIP file (Non-editable, contained PDF & JPEG)
● "Modern Navy Back Pattern for 5x3.5" as in 1 ZIP file (contained PDF & JPEG)
● "Home Printing Instruction" as 1 PDF file
● "Printing Tips" as 1 PDF file
● ONLY the texts in blue box are editable / changeable. Graphics change or move are not available.
● Provide a trim mark for best of cutting quality
● All finished PDF files are LOCKED with password to protected design elements. Printing with Acrobat Reader DC is permit
● All fonts from our design are embedded within our templates and cannot be extracted
● No font downloads and installation require
---------- I N S T R U C T I O N ----------
● Submit your order and download your file(s) to computer/laptop (Not working on Mobile/Tablet )
● Open the downloaded file(s) inside Adobe Acrobat Reader DC
● Update highlighted text fields follow to our instruction
● Print on a home printer or at a local printing/copy shop that use Acrobat Reader DC
● Cut & Trim along crop marks, ENJOY!!
● If password required, That's mean you open or print with another program, Please switch to use Acrobat Reader DC
---------- P R I N T I N G ----------
● We recommend printing either only by home printer or printing professional lab with Acrobat Reader DC
● Files are also formatted to print at Photo Lab & Online photo print shops such as Walmart, Walgreens, Costco, Target, CVS, Tesco, Overnight Prints, Vistaprint, Mpix, Shutterfly etc
● Simply to print on Letter Size (8.5" x 11") and A4 Size (8.27" x 11.69") with actual scaling 100%
● Colors may vary depending on your computer, your monitor device, printer and ink quality
● We guaranteed all files can print by Acrobat Reader DC
● "Clients Print Release" is available for all order (please ask if require)
---------- A G R E E M E N T ----------
● We are not responsible for mistakes or printing costs incurred. Please proof carefully
● It is the customer's full responsibility to proof for grammar, spelling and wording on your own
● NO password provide in any case. We guarantee our files working perfectly if follow our instruction
---------- R E T U R N & R E F U N D ----------
Due to the digital nature of our products, returns, refunds and cancellation are NOT possible in any case.
Please ask any questions before purchasing.
---------- T E R M S - O F - U S E ----------
● For Only Personal Use. Not to be share, sell, distribute or used commercially without written consent from owner
● No part of any contents may be reproduced or sold in any form
● All sales of digital download products are final
● By purchasing this listing, you are agreeing to our terms and conditions
T H A N K ⋆ Y O U
© 2018 InLove Digital Design