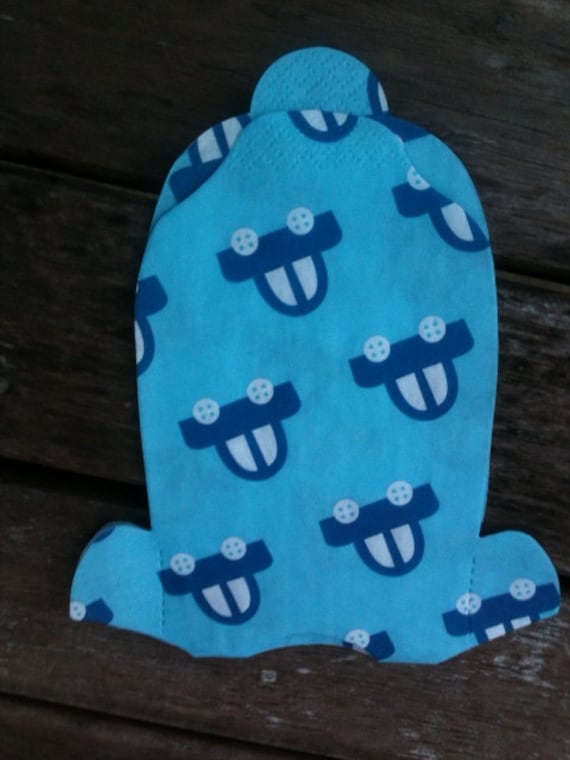 Napkins with cars. Any quantity Baby shower shirt shaped or bib shaped napkins or decoration in blues and white.
By wrapsidazy
Product Info
One of my favorite new designs!! These baby shower napkins are in the shape of baby 1-piece shirts or baby bibs! Each 2-ply napkin has the cutest little cars all over. The wheels look like little buttons. So cute! The design reminds me of comfy pajamas.
Each napkin is 6" long and 5" across, is double ply and opens up to twice this size, as you see in the 2nd picture. About the size of a small luncheon napkin or a big coctail napkin.
These will look gorgeous on your table AND hang a few over a ribbon for an instant banner! No pins or tape needed! Last picture shows what my shaped napkins look like as a banner.
Each one is very slightly different depending on the cut of the napkin. The 3rd pic shows you what the bib shaped napkin looks like, although that is a different design. Yours will have the little cars.
Non-smoker in a non-smoking home.
Actual emails from satisfied customers:
"The napkins couldn't have been more precious! I hung [some] along the edge of the table over ribbon and I it was the mom-to-be's favorite thing!"
"I couldn't even try to describe how cute these are,,, soooo pleased. Tk u:) "