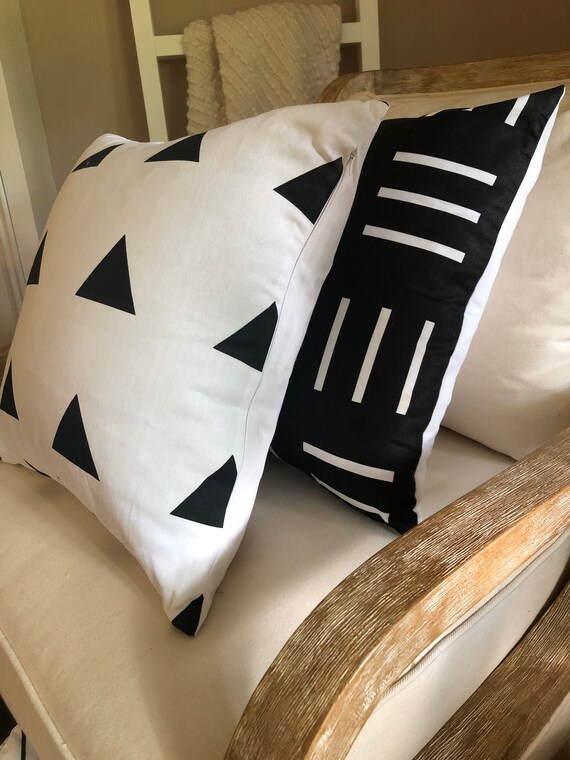 Mudcloth Print Pillow Cover SET - Striped Line Cotton Pillow - Triangle Pillow Cover - Mudcloth Print Pillow - 18x18 Black and White
By Living with Amanda
Product Info
Mudcloth Print Pillow Cover SET - Dash Line Cotton Pillow - Faux Leather Pillow Cover - Mudcloth Print Pillow - 18x18 Black and White
A b o u t Y o u r I t e m
This listing is for TWO PILLOW COVERS. ( The print is only on one side). Please note that they are soft cotton, but are FAUX mud cloth.
Each of my items are handmade to order. Your item will be different and may have a variation in color from one piece to another.
F a b r i c
100% Cotton
White
18"x18" Throw Pillow Cover with zipper closure
L e a d T i m e
All of my pillows are made to order. Depending on lead time, it may be 2-3 weeks before your order reaches you. If you need an item sooner, please contact me and I'll do everything I can to get your item to you in the time you need.
H o w t o W a s h Y o u r I t e m
Please wash your item in cold water and lay flat to dry. Do not use harsh chemicals or bleach. Lay flat to dry.
P i l l o w I n s e r t s
Pillow inserts are sold separately. I do sell them, so if you are interested in one, please let me know.
S h i p p i n g
Your hand-crafted items are shipped USPS.
C o n t a c t M e
Please send me a message if you have any questions or would like a special order.
Thank you so much,
Amanda